NATO warns Russia to avoid Crimea 'escalation'
Ukraine is on high alert amid report of fugitive former President Viktor Yanukovich taking refuge in Moscow
NATO head Anders Fogh Rasmussen on Thursday warned Russia not to take any action over Crimea that could stoke tensions or misunderstandings in the Ukraine crisis, Agence France-Presse reported .

"I'm concerned about developments in Crimea," Rasmussen said in a tweeted message.

"I urge Russia not to take any action that can escalate tension or create misunderstanding," he said.

Rasmussen's comments were made as the Ukraine interim government called in Moscow's representative in Kiev to warn that Russia must respect its territorial integrity after pro-Russian gunmen seized control of government buildings in the Crimea peninsula.

Russia must uphold the "independence, sovereignty and existing borders of Ukraine," the foreign ministry said.

Rasmussen later told a meeting of the NATO-Ukraine Commission that the latest developments in Crimea were "dangerous and irresponsible."

"I urge all parties to step back from confrontation," he said, calling on the Kiev authorities to lead the country forward in the most inclusive political process possible.
Armed men raise Russian flags
Ukraine's police and interior ministry troops were on high alert on Thursday, as pro-Russian armed men Thursday seized the parliament and government buildings in the country's Crimea region and raised Russian flags above them, amid a report that fugitive former leader Viktor Yanukovich was in Moscow.
"Early morning, unknown men armed with automatic and machine guns seized the building of the Crimean government in Simferopol," AFP quoted interior minister Arsen Avakov as saying in a Facebook post.
Avakov added: "Interior troops and the entire police force have been put on alert."
The area has been cordoned off "to prevent bloodshed."
The armed men wore black and orange ribbons, a Russian symbol of victory in World War II, the Associated Press reported, adding that they also put up a sign saying "Crimea is Russia."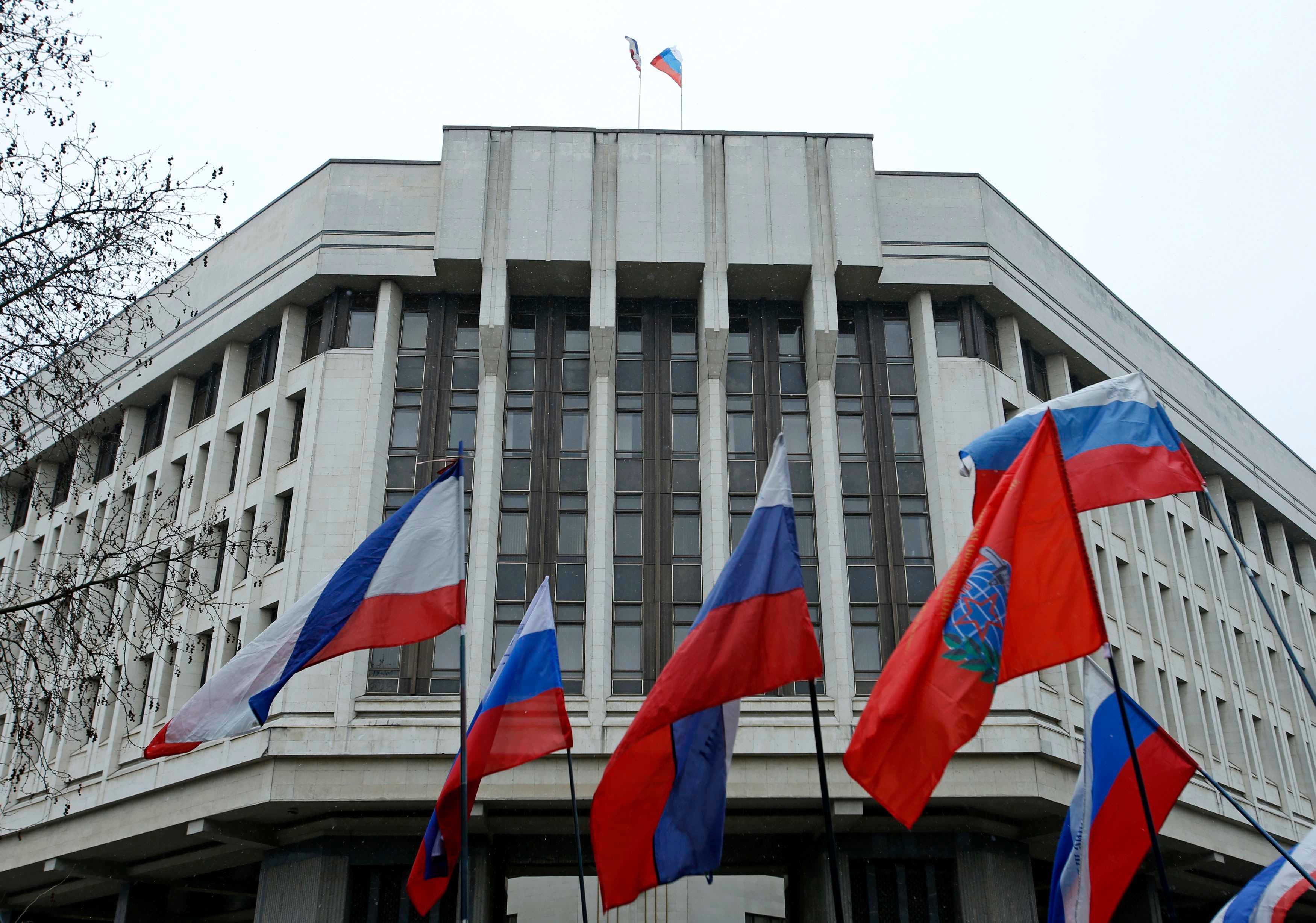 Taking measures
Crimean Prime Minister Anatoliy Mohilyov told Agence France-Presse that up to 50 men with weapons marched into the buildings during the night, hoisted Russian flags on top and were blocking government workers from entering.
Local authorities were preparing to "take measures," Mohilyov said, without adding any more details.

"We ask government workers not to come to work today," the regional government said in a statement.
Reuters reported that there were about 60 people inside and that they had many weapons - although no-one had been hurt when the buildings were seized in the early hours of Thursday.

"I heard gunfire in the night, came down and saw lots of people going in. Some then left. I'm not sure how many are still in there," a 30-year-old man who gave his name only as Roman told Reuters.
Seized
The Associated Press also reported a local leader of the Tatar community in Crimea as saying on his Facebook page early Thursday that the buildings of the local government and legislature were seized overnight by uniformed men.

Phone calls to the Crimean legislature are ringing unanswered, and its website is down.

Fistfights broke out Wednesday outside the legislature's building in the regional capital, Simferopol, between pro- and anti-Russian demonstrators.
The move came amid concerns of growing separatism on the overwhelmingly pro-Russian peninsula on the Black Sea after the ousting of pro-Moscow president Viktor Yanukovich.
Ethnic Tatars who support Ukraine's new leaders and pro-Russia separatists had confronted each other outside the regional parliament on Wednesday.
About 100 police were gathered in front of the parliament building. Doors into the building appeared to have been blocked by wooden crates, Reuters reported.
Mostly empty
The streets around the parliament were mostly empty apart from people going to work.
In Kiev, opposition leaders who took charge after pro-Russian Yanukovych fled were working on forming a new government to chart a path forward for the country and its ailing economy.
Ukraine's new leaders have been voicing alarm over signs of separatism there.

Russian President Vladimir Putin has ignored calls by some ethnic Russians in Crimea to reclaim the territory handed to then Soviet Ukraine by Soviet Communist leader Nikita Khrushchev in 1954.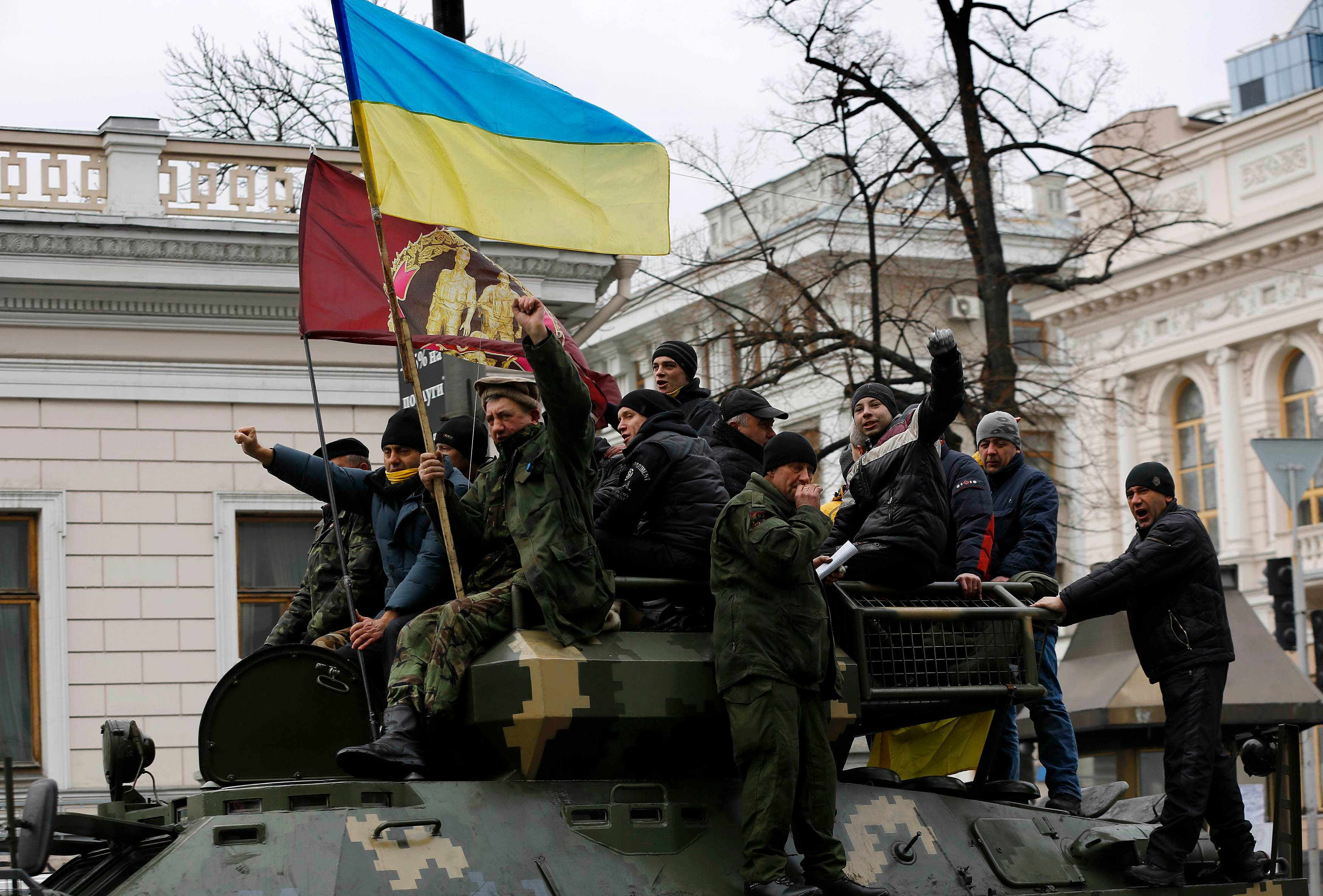 Where in the world is Yanukovich?
A Russian news organization reported on Thursday that Ukraine's fugitive ousted president was seen in a Moscow hotel and was now staying in a Kremlin sanatorium just outside the city.
Although the RBK report - which cited sources including a wealthy Russian businessman, and an unnamed government official - was impossible to confirm, security at the Ukraina Hotel was said to be unusually heavy late Wednesday, with police watching from parked vehicles outside and guards posted throughout the lobby.
However, Mikhail Margelov, chairman of the Foreign Affairs Committee of Parliament's upper house, told the Russia Today network that the fugitive Ukranian president was "definitely" not in Russia.
"I know definitely that Yanukovich is not in Russia and, in my modest opinion, Russia would not have granted him asylum," he said.
Additionally, some of Yanukovich's allies who were also reported to have been at the hotel may still be there.
Russian President Vladimir Putin spokesman said he had no information about Yanukovich's reported arrival in Moscow.
Yanukovich, Ukraine's former president, has not been seen publicly since Saturday – sparking numerous theories and speculation as to his whereabouts.
While the U.S. and European Union have recognized the new Ukrainian administration, which is opposed to Yanukovich, Russia still considers him to be the legitimate president.

(With AFP, Reuters and Associated Press)