Police were able to restore calm in Paris on Saturday after thousands of "yellow vest" protesters had turned out to demonstrate around France in a fourth weekend of unrest that has shaken President Emmanuel Macron's authority.
French Interior Minister Christophe Castaner said that 125,000 "yellow vest" protesters had turned out to protest across the country on Saturday. Police detained 1,385 of them.
Protesters angry at their President and France's high taxes returned to the streets of Paris on Saturday, amid exceptional security measures aimed at preventing a repeat of last week's rioting.
Speaking from the vicinity of the Arc de Triomphe near Avenue Marceau, Al Arabiya's Paris Bureau Chief Hussein Kneiber said protesters have turned violent and burned two cars, forcing riot police to push them away using tear gas.
"The cat and mouse chase taking place between the riot police and the Yellow Vests protesters are going on in between the alleys and avenues in the vicinity of the Arc de Triomphe. This tactic is meant to exhaust the protesters and push them further away," Kneiber said.
From another location, Al Arabiya correspondent Saad al-Massoudi confirmed that protesters threw objects and built makeshift barricades as their main goal is to reach the most famous monuments in Paris.
"Many protesters told us their main goal is to approach the Arc de Triomphe, a central location that has been symbolic struggle between the Yellow Vests and Macron and there are fears of increased escalations should the police use force later in the evening," al-Massoudi reported.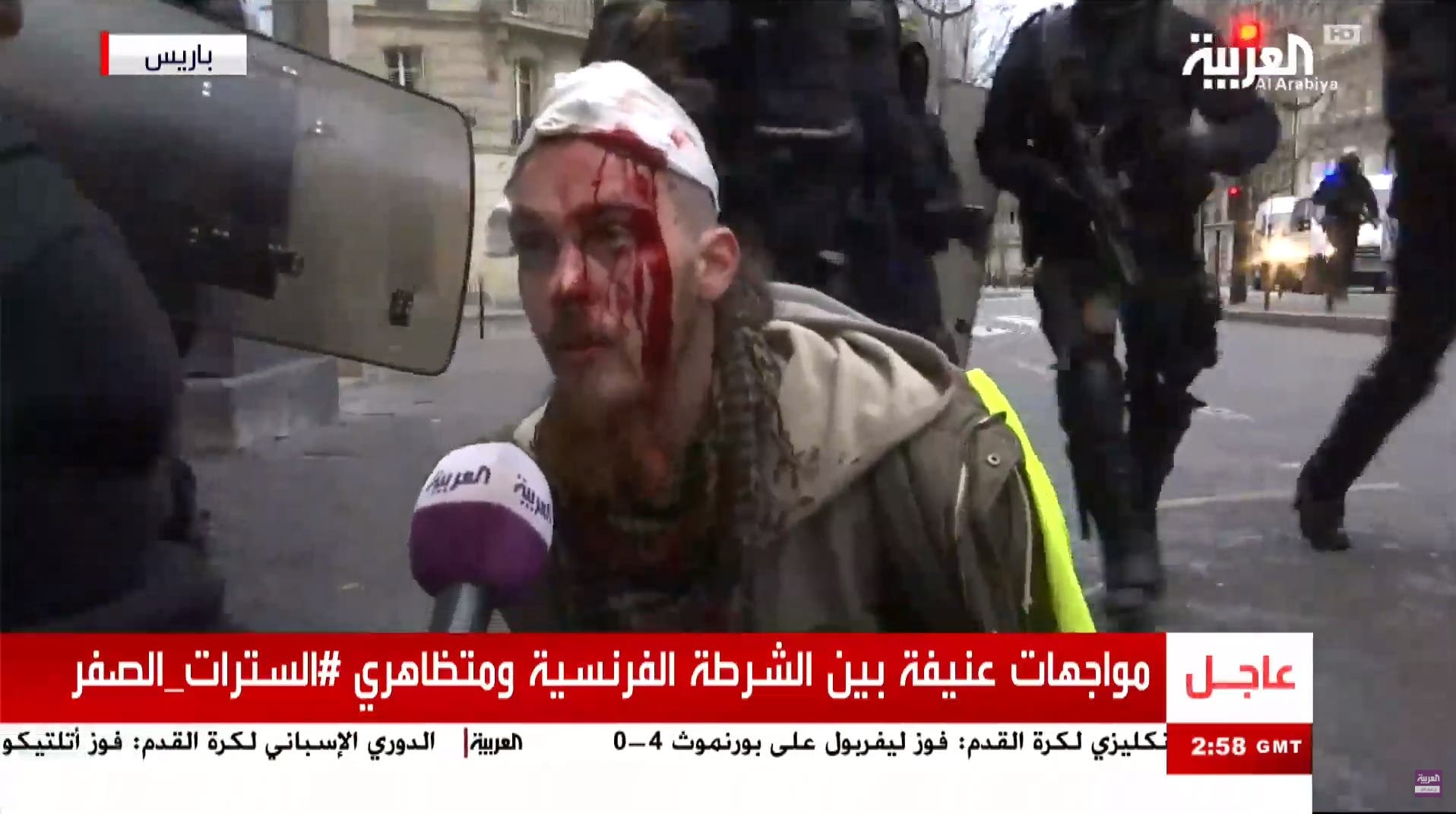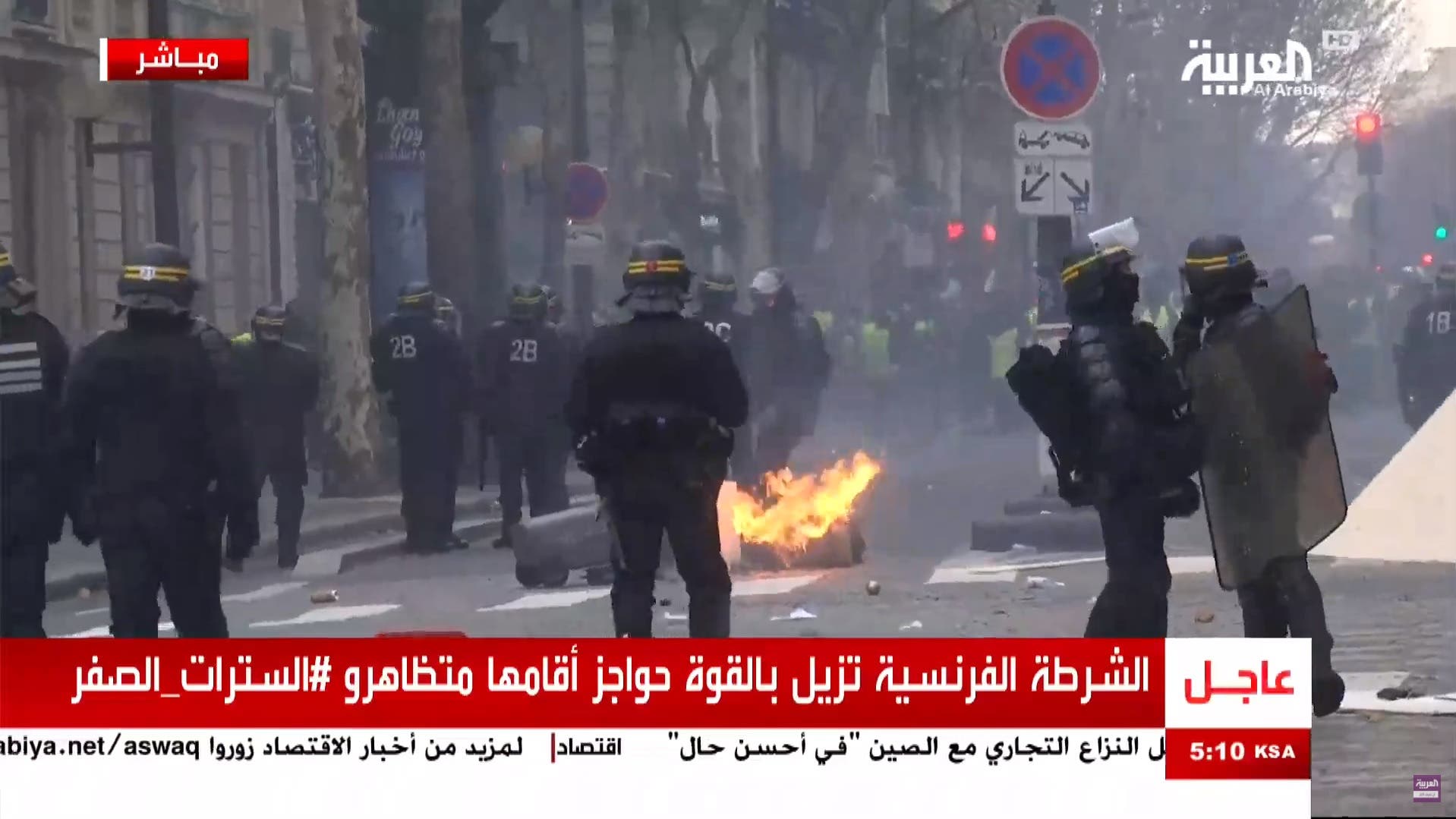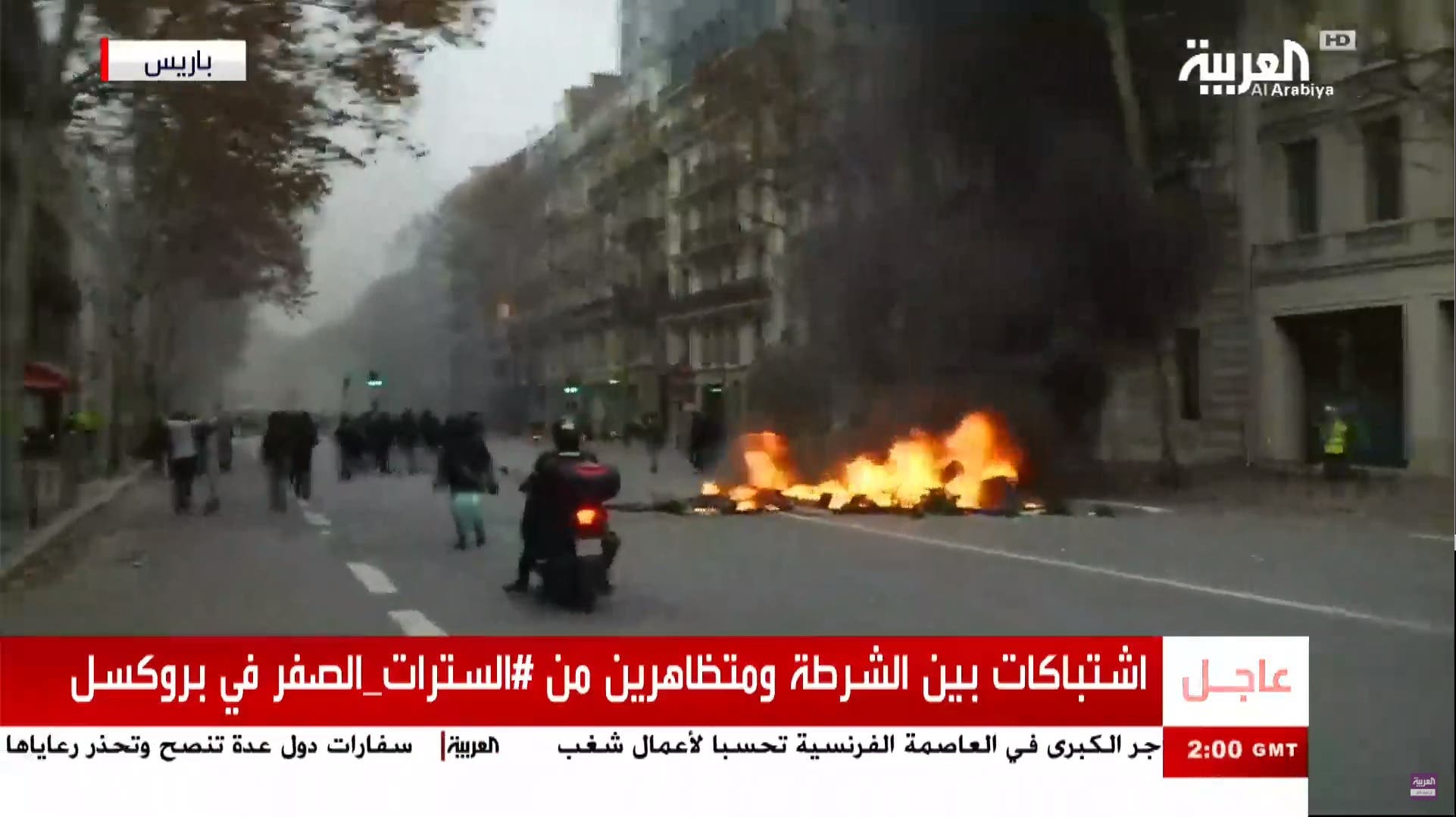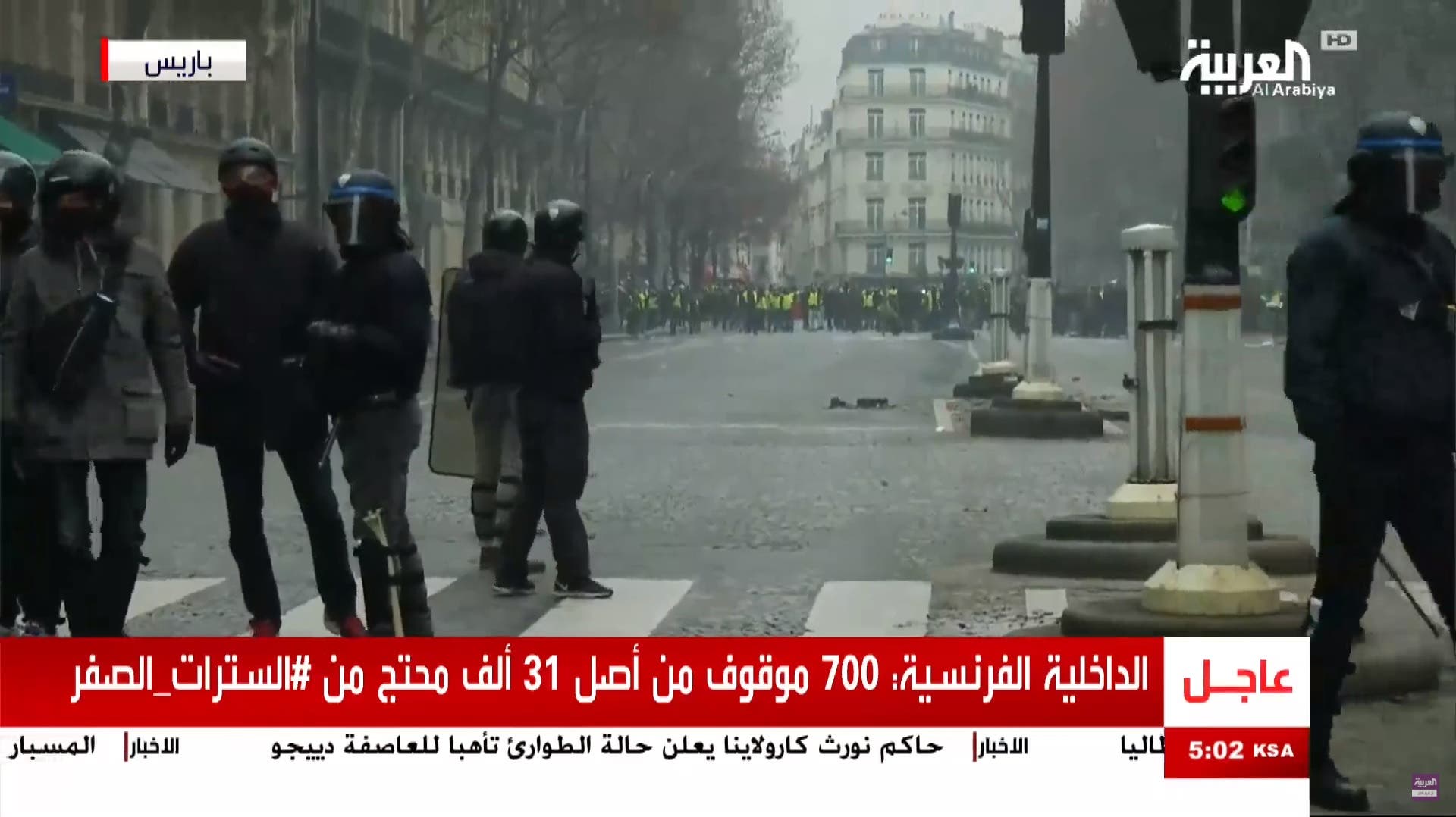 After two weekends of violence in Paris that made the authorities look powerless to secure their capital, police went into overdrive to keep a lid on unrest.
The grassroots movement began as resistance against a rise in taxes for diesel and gasoline, but quickly expanded to encompass frustration at stagnant incomes, the growing cost of living and other grievances.
Abdulqader Khiyashi, a writer and journalist, told Al Arabiya from Paris that it is difficult to currently gauge and label the current protests as either being a protest or an intifada as some observers have been calling them.
"What we know right now is that the Yellow Vests protesters are venting their anger at an economic level and are listing their demands which seems long and varied and not organized as it should be expected. The path of where these protests will head will depend on tonight and how the Elysee will react to them and should they head to a consecutive Saturday then we could expect another level of escalations," Khiyashi said.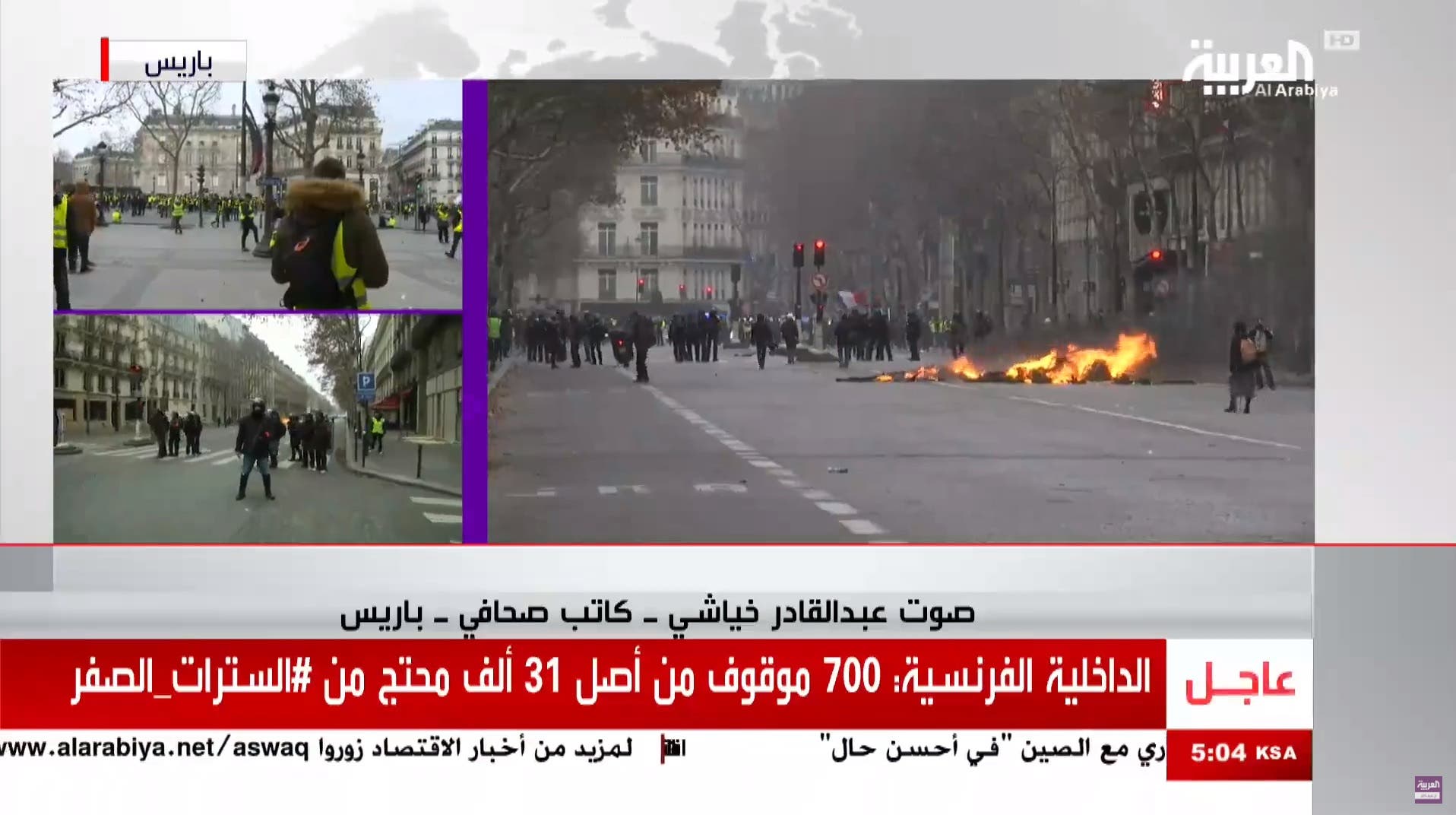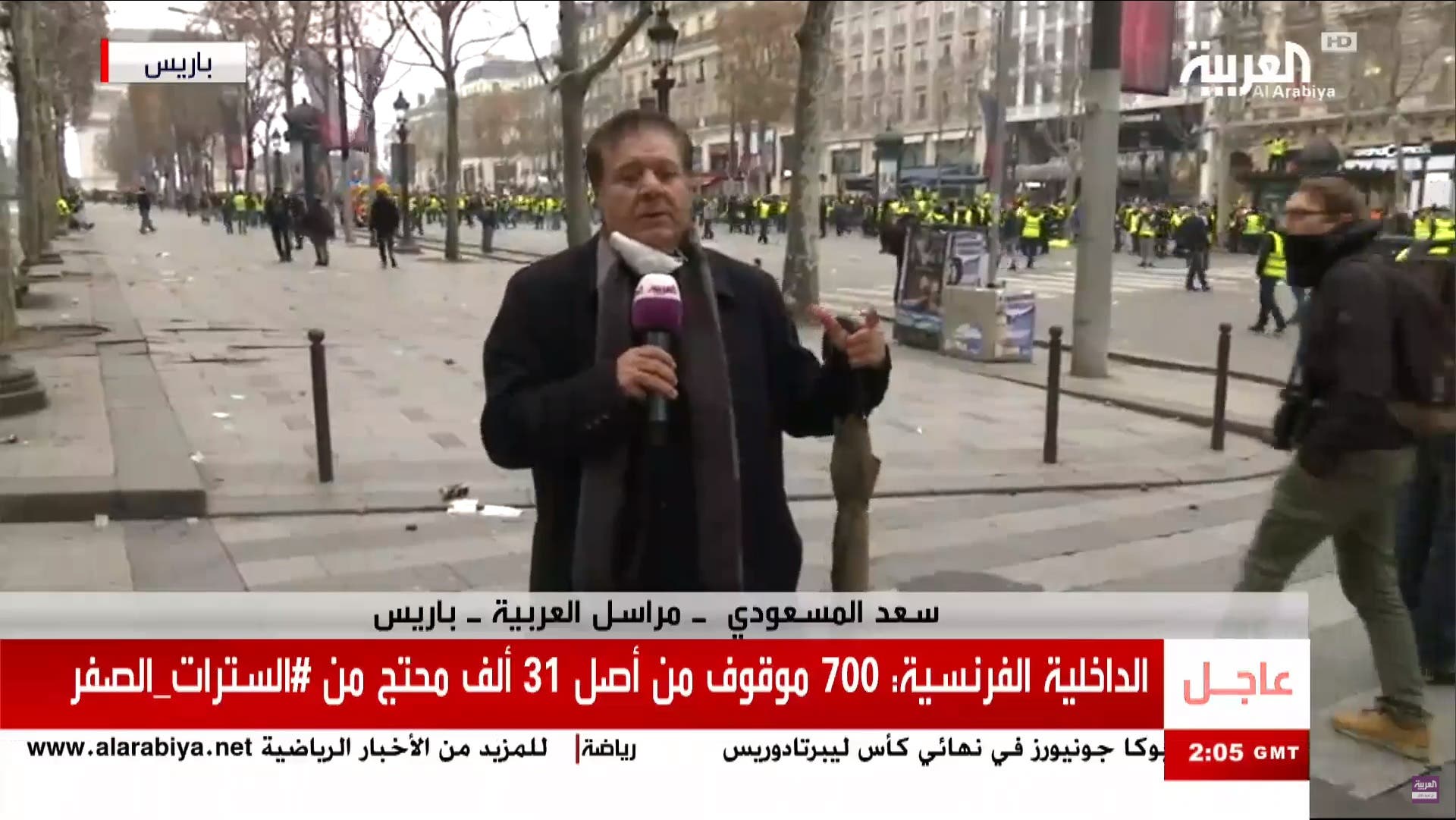 Bassam Tayara, another journalist, disagreed and said current protesters have gone beyond the simplistic label of protesters.
"We're now past just defining these protests as just that but now have to look at a possible revolution that has to be taken seriously. The current government has to take seriously in sitting down with any and everyone involved in order to find a path forward. Whether that includes a snap elections to determine where France would want to head, then that's a step that needs to be taken to curb wide public anger," he said.
An estimated 31,000 people joined "yellow vest" anti-government protests across France on Saturday, deputy interior minister Laurent Nunez said, adding that 700 people had been detained.