Qandeel Baloch murder: The tussle between Pakistan's law and 'honor'
Baloch was called 'Pakistan's Kim Kardashian' for her rebellious, provocative, and what some considered un-Islamic statements
The problem of honor-killings has returned to haunt Pakistani politics all over again following the recent high-profile death of social media sensation Qandeel Baloch, allegedly killed by her own brother.
Baloch has been called "Pakistan's Kim Kardashian" for her rebellious, provocative, and what some considered un-Islamic statements.
By many accounts, her videos were not so different from the thousands of others shared by 20-something social media celebrities around the world – she pouted during selfies, discussed the latest hair and make-up trends and once or twice shared confessions from her bedroom about her celebrity crushes, according to CNN.
But for many Pakistanis, her controversial actions, like promising to striptease for the nation if the country won the Cricket World T20 match, against India proved edgy.
For her own brother, it proved to be too much.
The 26-year-old was found dead in her family home in Multan on Friday, apparently strangled by her brother, Waseem, who later said he had "no regrets" and killed his famous sister to preserve the family's "honor".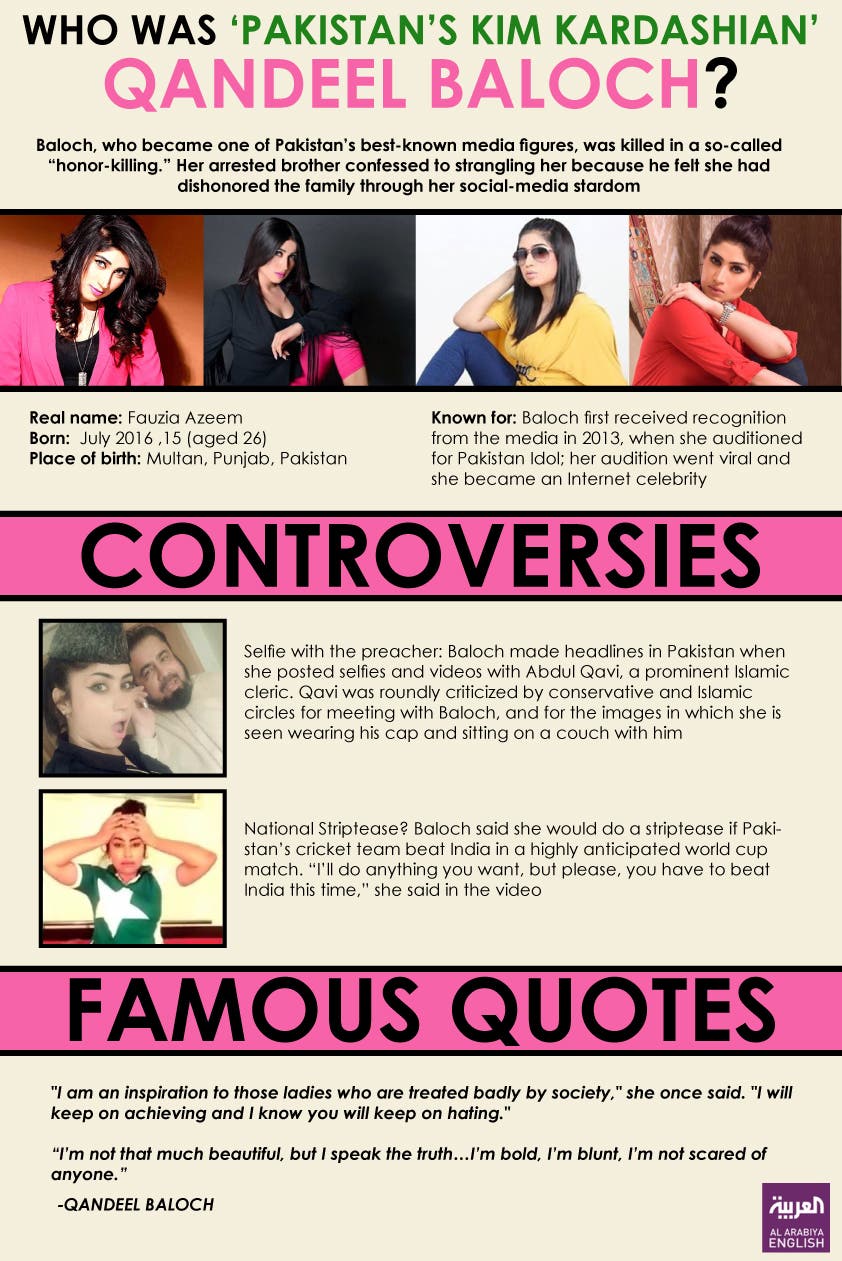 Pakistani journalist Alia Chughtai, who had met Baloch (real name Fauzia Azeem) few months before her death, told Al Arabiya English that she wished nothing more than to follow her ambition and creating a better future for herself and her family.
"There's been some sort of troll culture in Pakistan which has actually gotten out of hand. Qandeel herself never responded to the negative posts and told me that there was no point in reading the comments as haters were going to hate," she said.
Legislation 'not enough'
According to the World Economic Forum's 2015 Gender Gap Report, Pakistan was second to last on the list of 145 countries with regards to gender disparity.
The statistics reads much grimmer when it comes to the so-called honor killing. According to a 2014 report by the Pakistan Human Rights Commission, more than 3,000 women died in such cases in the country since 2008.
Like many of the cases that have gone to courts, there are fears among activists and lawyers that Baloch's brother might go off the hook because of the loopholes in Pakistan's justice system.
Any crime committed in Pakistan involving murder will be charged as such, various lawyers in Pakistan told Al Arabiya English. The problem surrounding honor-killings, however, involves the allowances of Qisas, and Islamic law which permits the individual and his or her family to retain control over a crime, including the right to determine whether to report the crime, prosecute the offender, or demand "diyat" (compensation).
"Under Pakistani laws, in line with Quranic practices, the accused can be forgiven by the relatives of the deceased. They can forgive or accept blood money. So it becomes really easy for a brother to kill his sister and then be forgiven by the parents for committing the crime," Saad Rasool, a Harvard-graduated lawyer who has helped prosecute acid attack cases before the Pakistani Supreme Court, told Al Arabiya English.
"This creates a vicious cycle for the accused to be prosecuted for the crime," he added.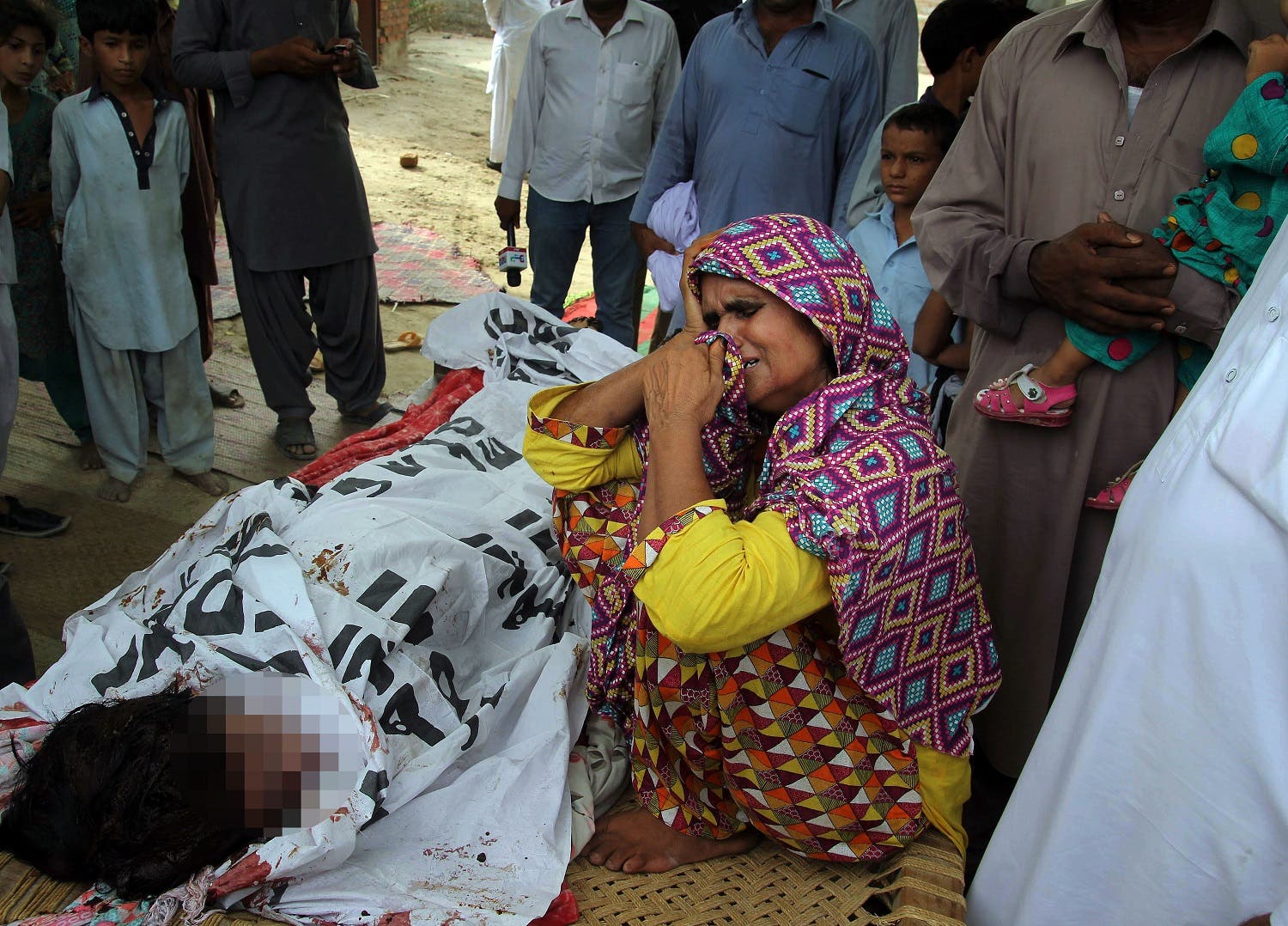 Following the hue and cry raised over this case, the authorities in Pakistan now say they have barred the family from legally "forgiving" their son for strangling her.
One way activists, lawyers and every day citizens say can combat the inter-lapping loopholes between the laws is introducing legislation that holds criminals in honor-killings accountable.
The Anti-Honor-Killing Bill was introduced by Senator Sughra Imam in parliament in 2014. The bill passed through Senate in March 2015 but lapsed in Parliament later that year.
Before 2005, a killer could pardon him or herself by declaring to be the "heir" of the victim. That right was abolished post the "Womens Protection Act" but those accused could still successfully secure pardon from fellow family members.
"We have been taking our message to newspapers, television, radio and social media to garner support from everyone across Pakistan. The passing of this bill would make right a long-standing wrong in Pakistani society and ensure that perpetrators are punished and victims are protected," said Sharmeen Obaid-Chinoy, a Pakistani filmmaker who won two Oscars tackling the very topic of honor-killings.
The problem with passing legislation in Pakistan, lawyers say, is that too often they are painfully slow. Even if amendments to the law pass, most often than not they are misunderstood and not effectively implemented.
"One can pass all sorts of legislation but it is ineffective unless it is enforced. For example, the Criminal Law Amendment Act 2004 did very little to reduce the incidence simply because those in charge of enforcing it did not know much about the law itself and generally did not want to challenge the status quo in areas where such acts are accepted," said Aurangzeb Qureshi, a writer and political commentator on Pakistan affairs.
Is honor-killing a Pakistani or Asian problem?
Despite the high number of reported cases in Pakistan, it is as staggering in neighboring India. Similar cases also pop up in Afghanistan every now and then. Earlier this week, an Afghan man says his pregnant 14-year-old daughter was burned to death by her in-laws.
The problem also exists in the Middle East. A Jordanian court reduced the sentence of a man who killed his daughter in 2014 because she left home without her husband's knowledge. Only a year earlier, 10 Egyptian men killed their mother and her two daughters on suspicion that they were having affairs.
"Honor crimes or killings are essentially a phenomenon around the world where the act is an extreme version of domestic violence. Most cases can be traced back to inflexible and discriminatory attitudes about women's roles in society," Human Rights Watch women's researcher Rothna Begum told Al Arabiya English.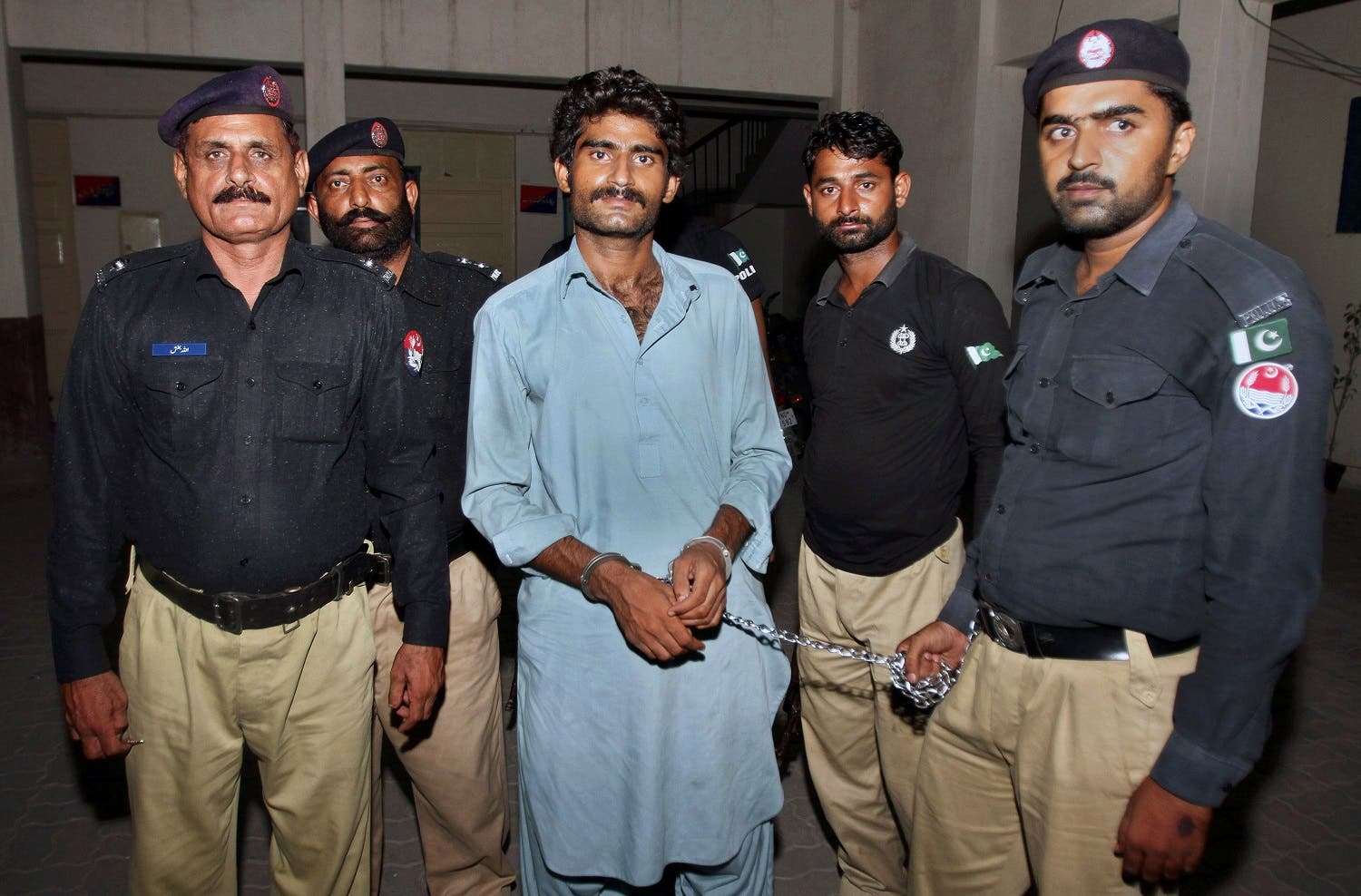 While the Qisas, or asking for forgiveness, does not exclusively pertain to crimes against women – as honor-killings happen to both sexes – statistics show it hits women the most around the world.
"Legally you can pass legislation and legislation but frankly unless we don't change our attitude and approach, things will stay the same," said Fawad Chaudhry, a prominent television anchor and lawyer.
At the end of the day, says Chughtai, Qandeel Baloch's story of how she went from rags to riches will fade among the polarizing debate about the case.
"The sad thing is people don't know Fauzia Azeem's story, they just know Qandeel because that's what she put out on social media. What she went through and how she managed to make an income … nobody knows these answers," she said.