Al Arabiya meets Saudi surgeon who separated 42 conjoined twins
Dr. Abdullah al-Rabeeah says his legacy will live on as the country carefully looks to pass on the experience to a new generation
After separating 42 sets of conjoined twins over the years, Saudi pediatric surgeon Dr. Abdullah al-Rabeeah still remembers his first surgery as if it was yesterday.
It was on a set of Saudi twins in December 1990 but he says his first challenging case came exactly two years later.
"The first surgery I conducted to separate twins happened in December 1990 on Saudi twins which was not a complex case but the most challenging first case came two years later in December 1992 which is a set of Sudanese twins which took 18 hours to separate," he told Al Arabiya English.
But when asked whether he has favorites out of all the twins he has separated over 36 years, Dr. Rabeeah first plays the diplomatic parent but gives in when he remembers the Malaysian Siamese twins Ahmed and Mohammed Rosli Abdulraheem.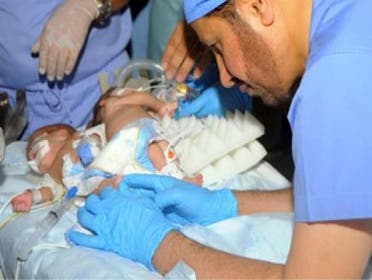 In 2002 Dr. Rabeeah received the case directly from the late King Abdullah himself after Malaysian and British surgeons had already tried to separate the twins, but failed.
I don't have favorites, but there are more challenging ones that never leave you. If you look at the Malaysian twins Ahmed and Mohammed who were separated in September 17, 2002, they were the most challenging for me because they were first operated in an attempted-surgery in Malaysia and England and then ended up in our center. That surgery took almost 24 hours, to be exact 23 and-a -half hours which is the longest and most tedious one I've done of all the cases," he said.
Early years
Being the go-to surgeon to operate on conjoined twins in the Middle East was never easy. It certainly was not the plan when a young Dr. Rabeeah first started his medical training at King Saud University years ago.
Dr. Rabeeah said he was torn between choosing two fields of focus, pediatrics and surgery. His mentor at the time, Dr. Hassan Kamel, told him to combine the two and that decision took him to Canada where he received his Pediatric Surgery Fellowship from the University of Alberta Hospital and became a chief resident at the university in 1985. In 1987, Dr. Rabeeah completed his residency in general and pediatric surgery at Dalhousie University before returning to Saudi Arabia where he would go on to carve out a career that would see him separate 42 twins to date.
"So far, my team and I have conducted 42 surgeries in total. And I remember each set of twins. They are now part of a growing family now," he told Al Arabiya English.
But for all those surgeries, former conjoined twins from Poland Daria and Olga Kolacz are still remembered fondly by their home country as well as in Saudi Arabia.
Continuing legacy
A video showing Daria and Olga running to embrace Dr. Rabeeah resurfaced online and went viral recently, despite the meeting have taken place several years ago.
He says he will always remember them because of the trust that was placed on him to separate them nearly 10 years ago.
The Kolacz twins were initially heading to the United States and Europe and given a slim chance of survival by many doctors before Dr. Rabeeah said he'd take on their case.
"From my experience, I've allowed cases up to 60 percent risk value but anything more than that will be extremely risky and many surgeons in the world will say that they have to be cautious," he said.
"But the Polish twins will always stay with me forever. When they came to visit Saudi Arabia the first time for a checkup, I was the health minister at the time and immediately as the door opened, they raced to hug me and I could not stop tearing up from that emotional moment. You can't describe it unless you experience it," he said
He said that the hug itself was a hallmark of the simplest gratitude a child could give their doctor.
"That could never be forgotten," he said.
While there are still many years left for Dr. Rabeeah before he contemplates retirement, he says his legacy will live on in Saudi Arabia as it carefully looks to pass on the experience to a new generation.
"We already started a program several years ago, wherein during every separation surgery, we bring in young team of doctors - both men and women - and technicians and nurses to be exposed to the experience. Over the last 25 years we have managed to develop a newer generation who are able to carry on this important legacy in Saudi Arabia," he said.
"We've seen over the years that the overall trust in Saudi Arabia's healthcare system is becoming higher. To be honest, this trust in Saudi doctors and nurses is increasing even inside the country. In the last decade, people outside are also trusting us more and more which is a plus for us. We've come a long way and we have much more to give," he added.