Coronavirus lockdown more harm than help for Lebanese who can't afford to stay home
Staying home during coronavirus is not an option for many Lebanese taxi drivers, street vendors, and other workers who are already struggling because of the ongoing economic crisis in the country that predated the current public health crisis.
The lockdown order issued Sunday in a bid to slow the spread of the coronavirus came as an economic blow particularly for those employed in the informal economy – about 55 percent of the Lebanese labor force – who do not have paid sick leave or vacation days.
"We shouldn't go out and work in the taxis, because the (coronavirus) situation is very dangerous, but we're forced to because we need a daily income," Abdel Azim Hmayed, a young newlywed who drives a "service," or shared taxi, in Beirut, told Al Arabiya English Friday. "We don't have a monthly paycheck."
In the normally bustling Mar Mikhael neighborhood of Beirut, a fruit seller keeps his doors open while a butcher prepares to shut down his shop. (Finbar Anderson)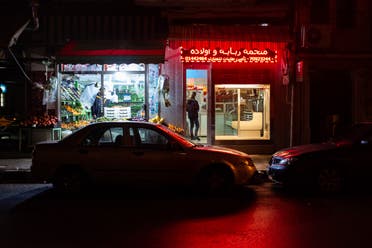 Read more: Restaurants and public life in Lebanon suffer amid new coronavirus measures
And while the health risks of working have increased, the monetary payoff has shrunk. Hmayed said where he used to pick up perhaps 40 riders a day – at a fare of 2,000 Lebanese lira (or about $1) each – now he gets 10 to 20. In recent months, the lira has lost around 30 percent of its value against the US dollar.
"Now I've gone two hours driving in circles without a rider, driving around and using gas but there are no riders," he said Friday afternoon. The one saving grace is that the owner of the car he drives has reduced the rent in light of the crisis, he said.
Down the street from the nearly empty Cola bus station in south Beirut, which during normal times is a bustling transit station, a vendor was manning a small fruit and vegetable cart Friday.
"The people don't have money and the streets are all empty, as you can see," said the vendor, who gave his name only as Fared. "And the police and General Security every so often come and give us a hard time."
But with three children at home, he said, "It's essential for me to work -- we need diapers and milk, and a bag of milk formula that had been 10,000 pounds is now 14,000" because of the ongoing currency crisis and resulting inflation. "Everything has gotten more expensive."
According to a 2019 report by the International Labour Organization (ILO) based on a survey of some 39,000 households, about 55 percent of workers in Lebanon were working in informal jobs – meaning that they generally do not have access to any formal safety net.
Potential disastrous outcomes
Add that to an economy that was already in collapse, experts said, and the outcome is potentially disastrous.
"While the global health crisis and largescale lockdowns resulting from COVID-19 will have a huge impact on economies and labor markets globally, it is important to note that in Lebanon this is yet another crisis compounding the country's already deep pre-existing political, economic and financial crises," Tariq Haq, ILO's senior employment promotion specialist for Arab states, told Al Arabiya English.
To respond to the crisis, he said, it will be "critical to rapidly scale up existing social protection mechanisms and put in place new schemes to protect workers' increasingly vulnerable livelihoods, while also deploying measures to support businesses to ensure that workers still have jobs to return to at the end of the lockdown."
Haq acknowledged that "Adopting such a stimulus will be particularly challenging in the current economic climate, but creating the fiscal space for it will be necessary to prevent a further hemorrhaging of the economy and deeper decline into poverty."
Jad Chaaban, an associate professor of economics at the American University of Beirut, noted that already many workers, even in the formal sector, had been receiving reduced salaries for months because of the economic crisis.
"Especially if this lasts longer than a month, for instance, we are entering a very problematic period because also the country has not been creating any jobs," he said.
Lacking the internal funding for an economic stimulus plan, Chaaban said, the country could turn to the International Monetary Fund's rapid financing instrument, which provides quick access to low-interest loans for crisis-hit countries without the often-controversial conditions that come along with other forms of IMF funding. To pay back the loan, Chaaban suggested, the country could implement an exceptional tax on the interest gains of the very wealthy, for instance.
"We have options, but these require an immediate decision...to accept that you have to allocate funds from the wealthiest to the poorest," he said.
At present, there is no official plan to help workers who are economically impacted by the lockdown. A Labor Ministry spokesperson said the ministry is working "very seriously" on the matter but could not share details of the plan.
In the meantime, some groups have launched informal aid initiatives to help struggling workers. In northern Lebanon's Tripoli, a group of friends began fundraising this week to help daily and informal sector workers weather the quarantine, under the slogan "We're sitting at home, they're sitting without work."
Locals help out
Zeina Awadate, a resident of the northern city of Tripoli and NGO worker who started the campaign, told Al Arabiya English that she felt compelled to do something after seeing an elderly man trying to sell coffee on an empty street at 9 p.m. while most residents were quarantined in their houses. Within a few hours, she and a group of friends launched a fundraising campaign using posters and WhatsApp.
Read more: Lebanon's financial crisis forces Tripoli traders to shut up shop
The campaign had collected about $20,000 as of Thursday, which was turned over to local initiatives with existing databases of vulnerable families, Awadate said, with 100,000 pounds (about $50) being distributed to each family.
"There hasn't been any emergency fund or planned strategy (by the government) to take care of these people while others go into their quarantine," she said. "There should have been some assistance or food or money given to them so they can actually survive and be compensated for their income. In the absence of that emergency fund, I thought we can do as much as we can."