The coronavirus outbreak is challenging the number one New Year's resolution - to exercise more - as many gyms have been forced to close indefinitely just three months into 2020.
But staying at home doesn't have to deter weight loss goals, according to fitness experts, who say at-home workouts can be just as effective and are now more important than ever for mental health.
While many people think weights or cardio machines are necessary for proper exercise, a workout using one's own body weight can be just as effective, according to Dubai-based certified personal trainer Taleen Khanoyan.
"You have all the tools you already need...Jump squats, push ups, high knees, and tricep dips are just some of the many exercises that will get you burning and toning immediately," Khanoyan said in an interview with Al Arabiya English. None of the exercises recommended by Khanoyan require any equipment.
It is incredibly important now to stay active "with all the uncertainty in the world" caused by the coronavirus pandemic, according to Khanoyan.
"Exercise not only helps boost immunity, it is also scientifically proven to up those endorphins, which makes you feel happier," said Khanoyan. "It's a great stress relief and can help you feel like you have a somewhat solid routine during this time of chaos."
Connecticut-based personal trainer Natalie Gianesello echoed the sentiment.
"During a time of crisis, if you have an opportunity to work out, it is especially important for mental health. Working out brings some form of normalcy back to our lives," Gianesello told Al Arabiya English.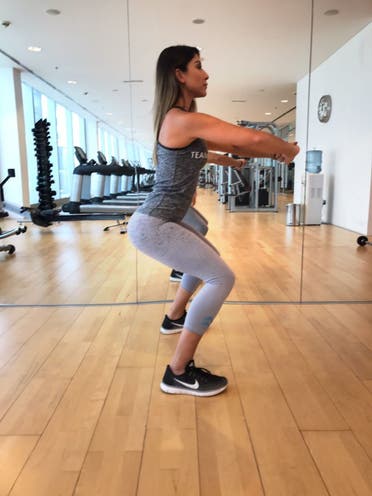 The ideal workout routine
The average healthy person should work out at least four to five times a week, according to Khanoyan. All workouts should include stretching each body part for a minimum of 20 seconds, which should take at least a total of 10 minutes, according to Gianesello.
"While exercising is important, it is equally important to stretch. Stretching after you exercise reduces pain and avoids injury. People who are tight should also stretch before they exercise," said Gianesello.
Workouts can be between 30 to 60 minutes depending on an individuals' fitness level, according to Gianesello, and can be broken up into two parts such as morning and evening walks. Walks are considered cardio, a type of exercise that burns fat, strengthens the heart, and increases lung capacity. Other cardio exercises include marching in place, jumping jacks, and walking or running up and down steps. All of these can be done in the house or outside.
Both Gianesello and Khanoyan recommend alternating workouts between cardio and strength training.
For people who want to tone their arms, Gianesello recommends low weights and high reps that can be done with water bottles or cans in place of light dumbbells.
For people intent on losing stomach weight, it requires more than just exercise, Gianesello and Khanoyan said, both stressing the importance of diet.
"Abs are made in the kitchen, and with cardio. In other words, the cleaner you eat - think lean proteins, lower carbs - the flatter your stomach will be," said Khanoyan. "Alternating between running and then walking will get your core in great shape."
Planks and balance exercises are also good for strengthening the core, according to Gianesello.
For toning the lower body, Khanoyan recommends deadlifts to "activate the hamstrings, glutes and lower back all at the same time."
"Step-ups, squat jumps and jump lunges are all super effective too because they get the heart rate up while building lean muscle," she added.
Virtual classes
While some gyms are offering virtual classes to their members, there are countless at-home workout videos available on YouTube that do not require a membership.
"On YouTube, I really like the Kayla Itsines workouts along with POPSUGAR workouts," said Khanoyan.
POPSUGAR Fitness, as well as fitness equipment company Bowflex, offer a variety of workout videos with professional personal trainers, including segments dedicated to stretching, cardio, and conditioning.
POPSUGAR Fitness offers all types of classes, even workouts for families.
Khanoyan said social media can also be a resource for exercising, particularly Instagram.
"Another great idea is going on your favorite workout's Instagram page - like Barry's Bootcamp or Orange Theory. They are offering free live sessions with their trainers, which is awesome," she said.
The best advice is to "try various videos, go for a walk, and just move," said Gianesello. "Regardless of your fitness level, it is important to just move and not become sedentary."