Lebanon moves to reform sponsorship system, but abolishing kafala still far off
Amid an increasingly desperate situation for migrant domestic workers in Lebanon, many of whom have been tossed out by their employers and are trying to return to their countries, the country's outgoing labor minister took a step to strengthen foreign workers' rights.
Human rights groups have long condemned the "kafala" sponsorship system that ties migrant workers' legal residency to a specific employer and does not allow them to easily leave exploitive or abusive work situations.
Lebanon's labor code specifically excludes domestic workers, meaning they are not subject to the same minimum wage and labor protections as other employees in Lebanon.
For all the latest headlines follow our Google News channel online or via the app.
The working conditions of domestic workers are instead governed by a standard work contract issued by the Labor Ministry. After months of discussion, caretaker Labor Minister Lamia Yammine announced last week that she had signed off on the new contract giving workers expanded rights with respect to working conditions and their ability to change employers.
Yammine wrote that the new contract "cancels the kafala system" and immediately faced criticism that the statement was overblown.

Farah Baba, spokeswoman for the Anti-Racism Movement, a group that pushes for migrant workers' rights, said that the changes in the new contract "are good – they're not bad... Of course, it's a step forward, but it's very exaggerated to say that it abolishes kafala or that migrant domestic workers can rest assured now that their rights are going to be fulfilled."
In an interview with Al Arabiya English, Yammine acknowledged that the new contract does not end the kafala system.
"We consider it as a crucial step toward undoing the kafala system… One can't say that the contract by itself will solve all the problems, but it is an essential step at least to strengthen the rights of the workers," she said.
The new contract does make some changes that advocates had called for. Now, workers are allowed to change employers for any reason at a month's notice. The previous contract only allowed the worker to terminate the contract in cases of misconduct or abuse by the employer.
This change "is breaking the idea of the sponsor because we are freeing the worker from the employer and she has freedom to change her work," Yammine told Al Arabiya English.
Read more:
Coronavirus traps migrant workers in Lebanon as economy fails
Thrown out, domestic workers in Lebanon look for a way back to Ethiopia
Meriam Prado Dubal, a domestic worker from the Philippines and co-founder of the Alliance of Migrant Domestic Workers in Lebanon, said the ultimate goal would be a law that would allow migrant workers the right to work without being tied to a specific employer. For example, a law that allowed them to "freelance" as a house cleaner for several households rather than working as a live-in maid for one employer, for instance, would be the goal, but she said that allowing workers to change employers at will was a positive step.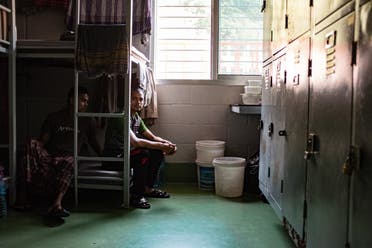 "The big [demand] is really that we can work without kafala, without kafeel," she said. "…But with the new contract at least those migrant workers that want to change their job, at least they can have their rights now."
She added, "Hopefully Lebanese employers will read all the contract also and they will apply it to their migrant workers – if there will still be migrant workers coming to Lebanon, because there are a lot of people who want to go back home now."
Rothna Begum, senior women's rights researcher at Human Rights Watch, said an improved contract could be "an important step in providing clarity on what domestic workers are entitled to and how employers should respect them."
But she warned that "a contract alone will do little to change the power imbalance and abuse against domestic workers unless the Lebanese authorities abolish kafala system to ensure that employers no longer have control over a migrant workers' legal status in the country."
She noted that Lebanon is one of only two major destination countries for migrant domestic workers in the region that do not include domestic workers in their labor law or have a separate law on domestic workers rights.
The country has fallen into an economic crisis, and the situation has only worsened in the aftermath of the Beirut port explosion, which displaced many migrant workers along with their employers. The new contract also more explicitly prohibits employers from the common practice of confiscating workers' passports and from forcing them to remain in the house during their day off. It increases the number of annual paid leave days from six to 15 and stipulates that domestic workers must be the paid minimum wage – although subject to deductions for in-kind contributions of food and housing by the employer. Lebanon's minimum wage is currently 675,000 Lebanese lira, the equivalent of $450 at the official exchange rate, but is considerably less at the black market rate where the currency has lost around 80 percent of its value.
Legislation needed, but not possible right now
Fully abolishing the sponsorship system, or to amend the labor law to cover migrant domestic workers, would require an act of Parliament. However, as the current government exists in a caretaker capacity and has little actual ability to introduce legislation since Prime Minister Hassan Diab resigned in the wake of the Beirut port explosion.
Yammine said her ministry has prepared draft legislation that would remove the exemption for domestic workers from the labor law, but it will have to be officially introduced and passed under a new government.
"We are getting it ready so that the minister who comes after me can bring it forward," she said. "…There wasn't a chance for me to be able to bring it forward because it's not a simple matter, but God willing with the next government, the minister will bring it forward to the Parliament."
New contract will be effective immediately
As for the new contract, Yammine said Saturday that it would be translated and notarized and then would be officially published and take effect immediately. As of Tuesday, the contract had not yet been officially published.
Read more:
Plight of migrant workers in Lebanon worsens as crises multiply
Lebanon provides shelter to 35 homeless Ethiopian migrant workers
Advocates said the next question will be whether the provisions in the contract are actually enforced and whether employers who violate it will face consequences. Without an enforcement mechanism the new contract is "good only in theory," Baba said. While the ministry has set up a hotline for workers to report abuses, the labor ministry has limited enforcement power.
Like Dubal, Baba said the ultimate goal would be to amend the law so that the residency of a migrant worker would not be tied to a specific Lebanese sponsor.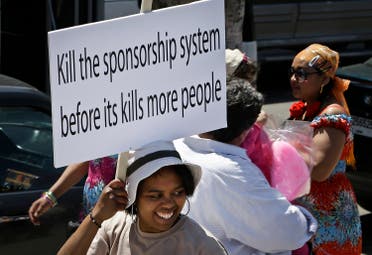 "The good alternative is to include them under Lebanese labor law, where they can report violations and be treated like any other worker in the country," she said.
And in the meantime, she said, there should be more aggressive enforcement against employers who violate the contract by failing to pay workers' wages – an increasingly common phenomenon as Lebanon's economic crisis has worsened – or dump workers on the streets.
Many workers who were owed months of back wages, eager to get out of Lebanon and return to their countries and with little faith in the Lebanese court system, have opted to leave without trying to pursue legal action, Baba said.
"There has to be some kind of mechanism for the ones whose rights have already been violated," she said.
HRW's Begum agreed.
"Lebanese authorities should take action to ensure that domestic workers are given shelter and food, that their employers pay all their wages and provide flights so that they can return home," she said. "That employers continue to face impunity for their actions while abandoned domestic workers appeal for assistance is the real testament of Lebanon's treatment of migrant domestic workers."