All you need is love? Dating app brings Palestinians, Israelis together
The app is designed to connect Palestinians and Israelis looking for love or friendship
The Middle East is experiencing more than its fair share of conflicts, including that between Palestinians and Israelis. Could a simple emotion such as love be the answer? The co-founder of a new dating app seems to think so.
Matthew Nolan – along with fellow American co-founders Khaled Darweesh and Jonathan Rubenstein – have launched the aptly titled Verona, which aims to bring Palestinians and Israelis together via their smartphones. Verona was the city in Shakespeare's "Romeo and Juliet," the story in which star-crossed lovers try to have a relationship despite the disapproval of their feuding families.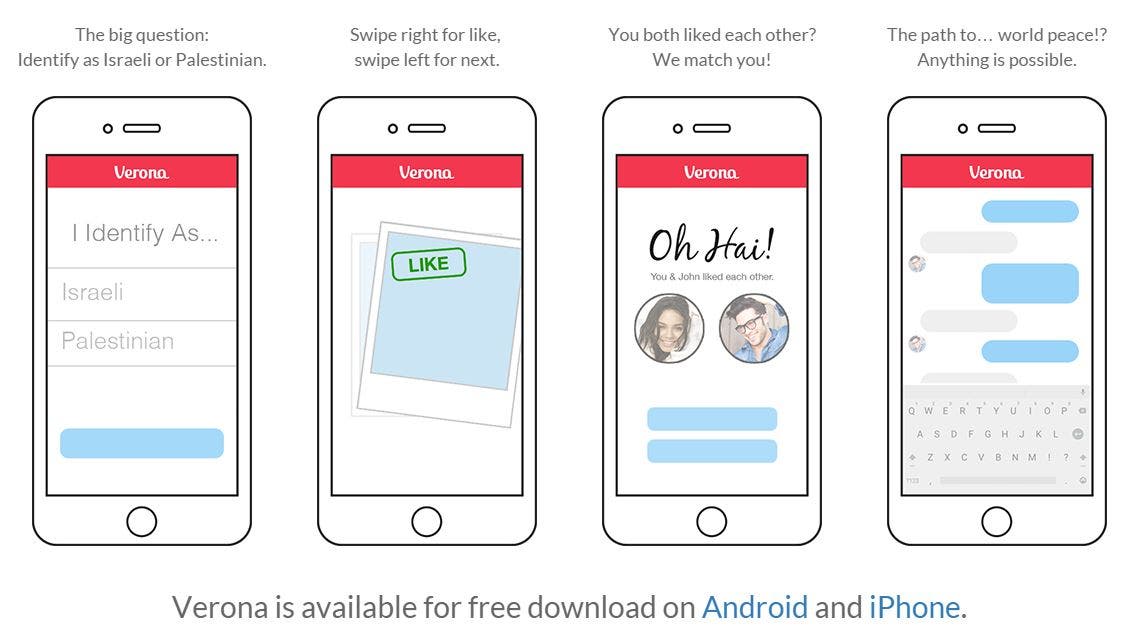 Operating under the slogan "World peace, one swipe at a time," it is designed to connect Palestinians and Israelis looking for love or friendship, or even individuals merely interested in achieving peace. Similar in function to the viral app Tinder, once logged in via Facebook users can create a profile identifying as either Palestinian or Israeli. You swipe right if you like someone, left if you do not.
Verona launched on Android in March, and has picked up interest since. It arrived on the Apple Store on June 15. In his first interview with Gulf media, Nolan tells Al Arabiya News about the inspiration behind it and what he wants to achieve.
How did the idea for the app come about?
The idea for Verona came very organically. I had a few friends over, and we were discussing ideas for an art project to encourage world peace. My buddy Khaled, who's Palestinian, said: "We're already encouraging world peace," noting that his new girlfriend is from Israel.
We were talking about creating a dating site called J-P Date. The idea stuck with me, and I found myself talking about it non-stop. Everyone I ran the idea by gave me positive feedback. That's when I realized I had to build it.
The app is similar Tinder, and you have made it available internationally.
Verona takes a lot of inspiration from Tinder, but 'Tinder hyper-local.' Verona is a social discovery app with a global village mind-set. It's absolutely available worldwide. While Israel and Palestine sound like very specific regions, the reality is people around the world have ties back there. At first Verona was popular in America, then Israel. Now we're catching on in France. I have users in most major cities around the globe. The world is speaking.
What if people sign up pretending to be Palestinian or Israeli?
We're trying to start a new conversation about finding peace. We're asking that people identify as one or the other. For instance if someone is Jewish but not Israeli, they're welcome to identify as Israeli. If someone is Arab, they're welcome to identify as Palestinian even if they've never been there. Building bridges between anyone who even remotely falls into those two groups brings progress and new air into the conversation.
What made you decide to take on such a controversial project?
Verona is one of the most rewarding things I've done in my career. I believe technologists have a responsibility to make stuff that has a positive effect on the world.
Are you worried about a potential backlash?
Verona isn't for everybody. We've been very clear that if it contradicts your personal or religious beliefs, then don't use it. There will always be naysayers, but the feedback has been 90 percent positive. I'll take that as a sign that the world wants this.
Do you have public investors or is it self-funded?
It's been mostly self-funded. The team has been putting in a lot of 18 hour-days to make Verona real.
Have you ever visited the Middle East? Have you experienced any situations that Palestinians and Israelis face on a daily basis?
Sadly no, I've not yet been there. Ironically, when Verona went viral I had to cancel a backpacking trip that would've taken me through the Middle East. I'm looking forward to heading there soon.
That said, I've been very privileged to have many friends from that part of the world. Even the two people who inspired it have roots there. I've been listening to my friends' perspectives over the years, and that's part of why I'm passionate to do something to help.
What would you ultimately want to achieve with this app?
My goal is to start a new conversation about conflict, and about how to pursue peace both in the region and globally. Even though Verona is still in its infancy, I think I've already achieved that. Now it's all about scaling.
For more information about Verona, visit www.getverona.com.