Interview: Shah Rukh Khan, Anushka Sharma on the summer's Bollywood blockbuster
He's known for his open relationship with the media, so it was unfortunate that Shah Rukh Khan's latest press visit to Dubai didn't get off to the best start.
Visiting with actress Anushka Sharma to promote their latest film release, 'Jab Harry Met Sejal' - which is out today in the United Arab Emirates – a meet-and-greet with fans and press conference that was scheduled for the early afternoon ended up happening over three hours late. While delays happen, we were then surprised to find out only pre-approved questions by bloggers were allowed to be asked, resulting in no mainstream media being granted the chance to speak with the cast.
SRK is of course no stranger to the UAE, and in over a decade of covering his conferences, he's never 'controlled' questions, so it came across as odd. Reaching out to Red Chilli Entertainment – the production company owned by the Bollywood star – via Twitter to find out why, we received a call from his management and then SRK himself to apologise for what happened, confirming that this was carried out by an organiser that was part of the event but without his knowledge.
In a meeting the next day, the actor and businessman told us that there had been a misunderstanding.
"I never control questions, and never ask for questions to be preapproved; I was surprised when I started reading the tweets afterwards," he said. "It's an unfortunate incident, and for that myself and the rest of the team apologise, but this wasn't our doing."
Event mishaps aside, Khan's latest release has been billed as the Bollywood hit of the summer, predicted to break box-office records. We sat down with the legendary actor, along with co-star Sharma, to for a quick chat.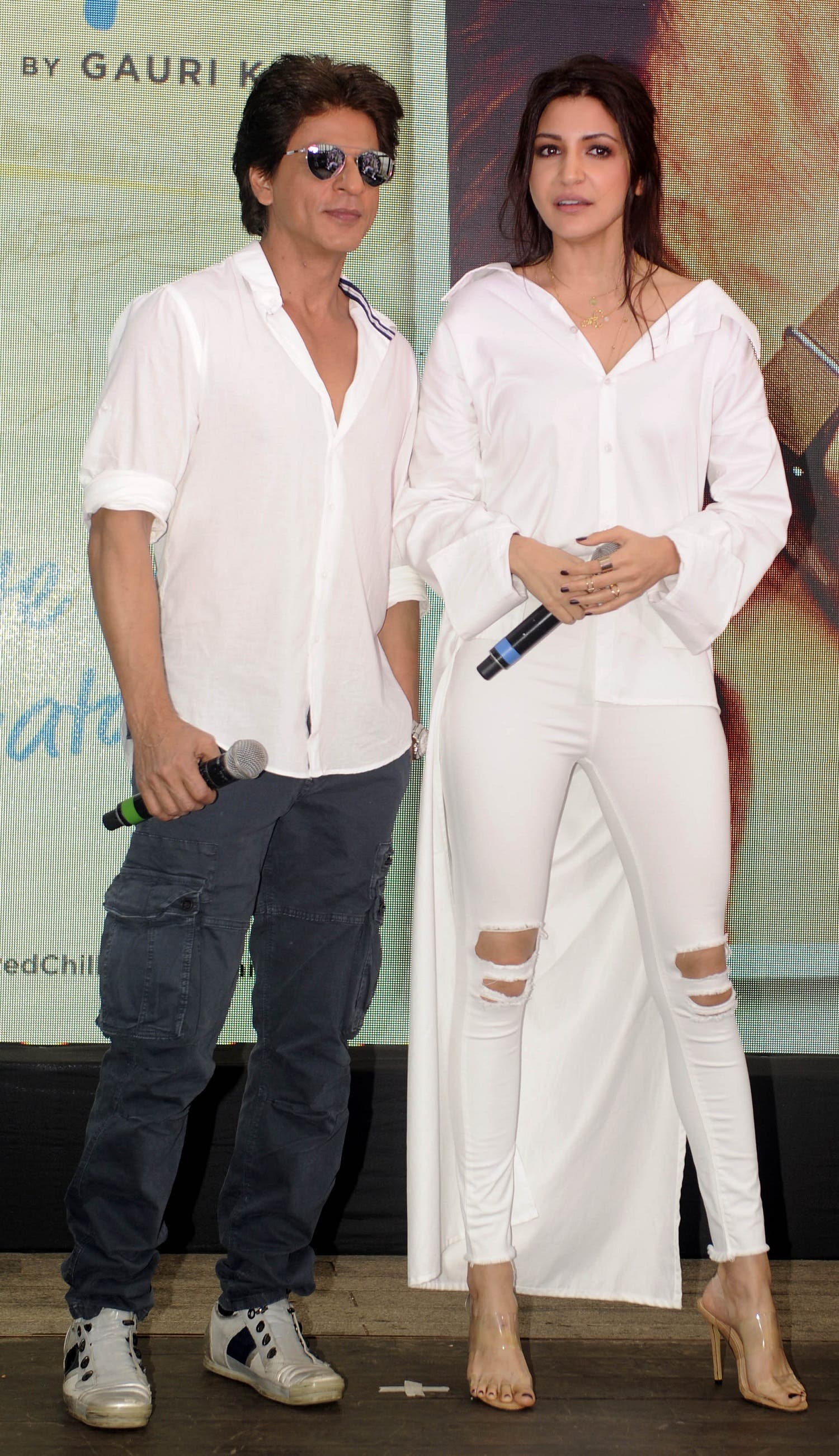 First things first, we've resolved what happened during this week's meet-and-greet and media event...
SRK: I like to meet everyone. You know, fans have been waiting for 3-4 hours, so I want to meet them personally. Normally, it is not part of the programme or agenda.
Maybe amongst the stars, I must be the only guy who comes late. Most of them are always on time and they're there before time. Even if I wasn't a star, I would be late. I'm one of those who really has a big problem with a 24-hour day. I wish it was 28 hours. Then, I'd be on time everywhere. I do cram in a lot more and I do have a little lack of sense about traffic and stuff. I really do.
So tell us in your own words a little bit about 'Jab Harry Met Sejal'.
AS: The film follows the two characters, Harry and Sejal, as they go around the places in Europe that Sejal was with her family. My character is Gujarati. When she loses her engagement ring, he tries to help her find it. During their journey, she starts to see things in a very different way now that she is not with the family and she is on her own. It's a journey of self discovery and discovering another person who is very different from who you are and, in a way, completes you because of that.
Imtiaz [Ali, the film's writer and director] has a knack for making things very real and organic.
SRK: It is a love story. But Imtiaz's love story is not just about the story; it's about the discovery of emotions. He empowers the emotions of a woman and that's why his love stories are very interesting.
What is nice about this film is that it has got some very real kind of conversations. When you watch the film, you will feel feel like you know these two people because you are like them or you know some people who are like them.
This is your third film together – so what's your dynamic like?
SRK: She's a pain! She is always on time. For a 9am shift, she is there at 8.45am. Who does that and why? When we did our first film together, I thought, 'Okay, she's a newcomer so she's over enthusiastic'. Now, she is an 'oldcomer' and she's still coming on time and she's proper. It makes me look really bad. Otherwise, when I'm not with her, I'm so loved.
AS: Rubbish!
It seems that Bollywood films are becoming bigger than ever in this region these days. Have you noticed any new market trends?
SRK: There was a time when Indian film was extremely popular in Egypt, Morocco, Russia and some other places. [Films with] Mr Bachchan and Mr Shashi Kapoor.
[Now] the fastest growing region for Hindi cinema is the UAE, Saudi Arabia, the Gulf… and I think it's got to do a little with the fact that there is a cultural overlap; we have a similar way of life. So the UAE is the fastest growing unit for us and we have to respect it by making it accessible.
Now for a quickfire round. 'Jab Harry Met Sejal' sounds similar to 'When Harry Met Sally'. If you could have one of your films made into a Hollywood or Arabic production which one would it be?
Both: 'Rab Ne Bana Di Jodi'
SRK, you mentioned you have a house in Dubai. Ever been tempted to Airbnb it?
SRK: I don't want anyone to be swimming in my swimming costumes.
AS: That could be a thing! Live in a celebrity's house. I think you should do it!
-You head up Red Chilli Entertainment. What's your biggest strength as a businessman?
SRK: I think the fact that I can, in a very happy way, get a lot of people to work together.
-What trait do you wish you had?
SRK: I wish I was more frugal. I'm a spendthrift as a businessman.
-Which upcoming Hollywood release are you looking forward to watching?
SRK: I'm waiting for 'Deadpool 2'!
AS: I've not seen the first one. But I want to see it.
SRK: What? I'm not hanging out with you anymore after this.
If Ryan Reynolds approached you to make a cameo in it, would you do it?
SRK: In 'Deadpool'? Of course! I'll be the cab driver.
And finally, are you still friends with Ramez Galal?
SRK: Oh yeah. I love him. He's really sweet. I hope he didn't get too scared that I was getting angry at him. I wasn't angry at him. I was loving him.
AS: He didn't look scared at all! He looked like he was enjoying it!