So why did the Iraqi army leave another city to ISIS?
The Islamic State of Iraq and Syria seized control of Iraq's Ramadi on Sunday
The Islamic State of Iraq and Syria seized control of Iraq's Ramadi on Sunday, sending Iraqi forces fleeing in a major loss despite the support of U.S.-led airstrikes targeting the extremists.
Observers speaking to Al Arabiya News consider sectarian divide, not enough belief in the government in Baghdad and misguided army leadership as reasons behind the Iraqi army's withdrawal from the western city of Ramadi in a loss reminiscent of the fall of Mosul last year.
"They (the Iraqi army) believe they will be eliminated. Why die for a government that doesn't give them enough power?" Mustafa al-Ani, director of the National Security and Terrorism Studies Department at the UAE-based Gulf Research Center, told Al Arabiya News.
Infographic: How Ramadi fell to ISIS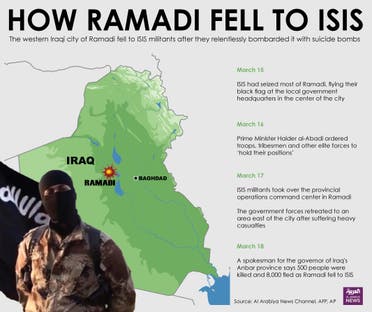 As ISIS advanced on Sunday, Iraqi Prime Minister Haider al-Abadi ordered government forces to "hold their positions" in the city.
Abadi said troops, tribesmen and other elite forces "must hold their positions and preserve them and not allow Daesh (ISIS) to extend to other areas in Ramadi," his spokesman Saad al-Hadithi said using another acronym for the militant group.
"There is continuous air cover that will help ground troops there hold their positions while waiting for support from other forces and the Popular Mobilization Units," he said of an umbrella group for Shiite militias.
When asked if the army could retreat without orders, Iraqi parliamentarian Mohammad al-Karbouli told Al Arabiya News Channel that it would not be possible.
"Abadi for sure gave the orders; that's why they left," he said.
The MP also criticized the army's withdrawal as being "uncalculated" and "hurried." He said ISIS has mortar bombs and could target retreating forces.
One police officer who was in a Ramadi neighborhood called Malaab told the Associated Press that retreating forces left behind about 30 army vehicles and weapons that included artillery and assault rifles. He said some two dozen policemen also went missing during the fighting.
Michael Pregent, an adjunct lecturer at the National Defense University in Washington, told Al Arabiya News that the army, which he described as "predominantly Shiites," retreated "because they do not want to die in Sunni areas, they want to go back."
Ameer al-Saadi, an Iraqi based military and political analyst, said there was a "technical mistake" and that the "army leadership must bear responsibility for -- even after the withdrawal, they could not even carry the equipment."
He added: "This is the simplest task an army unit officer to be responsible for but was given [left behind arms] to ISIS to be used against our citizens."
The analyst criticized the U.S.-led airstrikes for not providing enough aerial protection to troops on the ground; he also called for questioning the head of Anbar's police for reportedly taking a leave during such critical times.
"The security forces could not even make use of intelligence information provided by some of the sheikhs in Anbar 10 days before indicating that there will be an ISIS attack on Abu Faraj and Abu Alwan (neighborhoods in Ramadi)," he said, adding "instead of preparations, the head of the Anbar police and some of the employees were on a vacation."
However, Ani said the U.S. chose to act "independently" when launching its airstrikes as some Iraqis offer "deliberate inaccurate" intelligence.
The Dubai-based Ani said without U.S. airstrikes, ISIS would not have withdrawn from the main government building on Saturday – in a glimmer of hope - before the militant group captured of the city.
The Pentagon described the situation in Ramadi on Sunday as remaining "fluid and contested" with Iraqi officials disagreeing as to whether ISIS militants truly claimed the city.
Disagreement over Shiite militias
In Anbar there is disagreement over whether to allow Shiite militias, known as Popular Mobilization units, to help in ridding the province of ISIS militants.
The mobilization units helped in liberating late Iraqi President Saddam Hussein's hometown of Tikrit in late March but were accused of engaging in human rights violations against residents of the city.
Human Rights Watch said some homes were set on fire in Diyala province after it was liberated by the Shiite militias from ISIS early this year.
Earlier Sunday, Abadi ordered the units to prepare to go into the Sunni-dominated province, ignoring U.S. concerns that their presence could spark sectarian bloodshed. By late Sunday, a large number of Shiite militiamen had arrived at a military base near Ramadi, apparently to participate in a possible counter-offensive, said the head of the Anbar provincial council, Sabah Karhout.

"We welcome any group, including Shiite militias, to come and help us in liberating the city from the militants. What happened today is a big loss caused by lack of good planning by the military," a Sunni tribal leader, Naeem al-Gauoud, told the Associated Press.
However, Karbouli said Anbar's provincial council "did not vote on the Popular Mobilization units. We do not want a repeated scenario over what happened in Diyala or Tirkit."
"The Anbaris have been asking the Baghdad to help them for months with weapons and ammunitions and Baghdad has not," said Pregent. "This is not a surprise invasion of a city, this is something they saw coming."
Like him, Karbouly said "what happened today was a similar setback to that of Mosul in Ramadi. This has proved what we have said before; that we must arm the tribesmen to stand against ISIS.
"What happened was expected," he stressed.
The Sunnis' desire to be armed has not gone unnoticed by Washington.
In response to Iraq's weak army and the country's different factions being armed, a U.S. bill in May called for the U.S. Congress to arm Kurdish and Sunni forces directly. However, Abadi's administration vehemently rejected the bill, saying it was an attempt to split Iraq.
But others, like Saadi, believe Iraq needs an "elite force," and the training received by Anbar's tribesmen - which does not go beyond 45 days - is not enough.
"We need elite forces with military ideology that is consistent and advanced weapons," he recommended, saying ISIS militants, who have mastered guerrilla warfare, have gained experience not only in fighting in Iraq but also outside the country's borders.
Saadi also recommends making use of the mobilization units as they are currently in another Anbar city, in Fallujah.
"So far ISIS could not break the defense of these armed militia," he said.
Pregent, meanwhile, said ISIS loses when it is faced with forces that are ideologically driven or determined.
"ISIS loses when it faces [the Iraqi Kurdish] Peshmerga, because they care for the territory they fight for, it loses when it faces Shiite militias when they care about the territory they fight for," he said.