Rise and fall of Abu Hamza: the 'Captain Hook' of controversial preachers
The radical preacher reportedly worked for a strip club and had contacts with the British intelligence
This week, Egyptian-born hate preacher Abu Hamza stands on trial awaiting a possible life sentence in a U.S. maximum security prison.
The radical cleric - and former supposed jihadist involved in conflicts including Bosnia, Yemen and Afghanistan - has pleaded not guilty to 11 kidnapping and terror counts that pre-date the 9/11 attacks.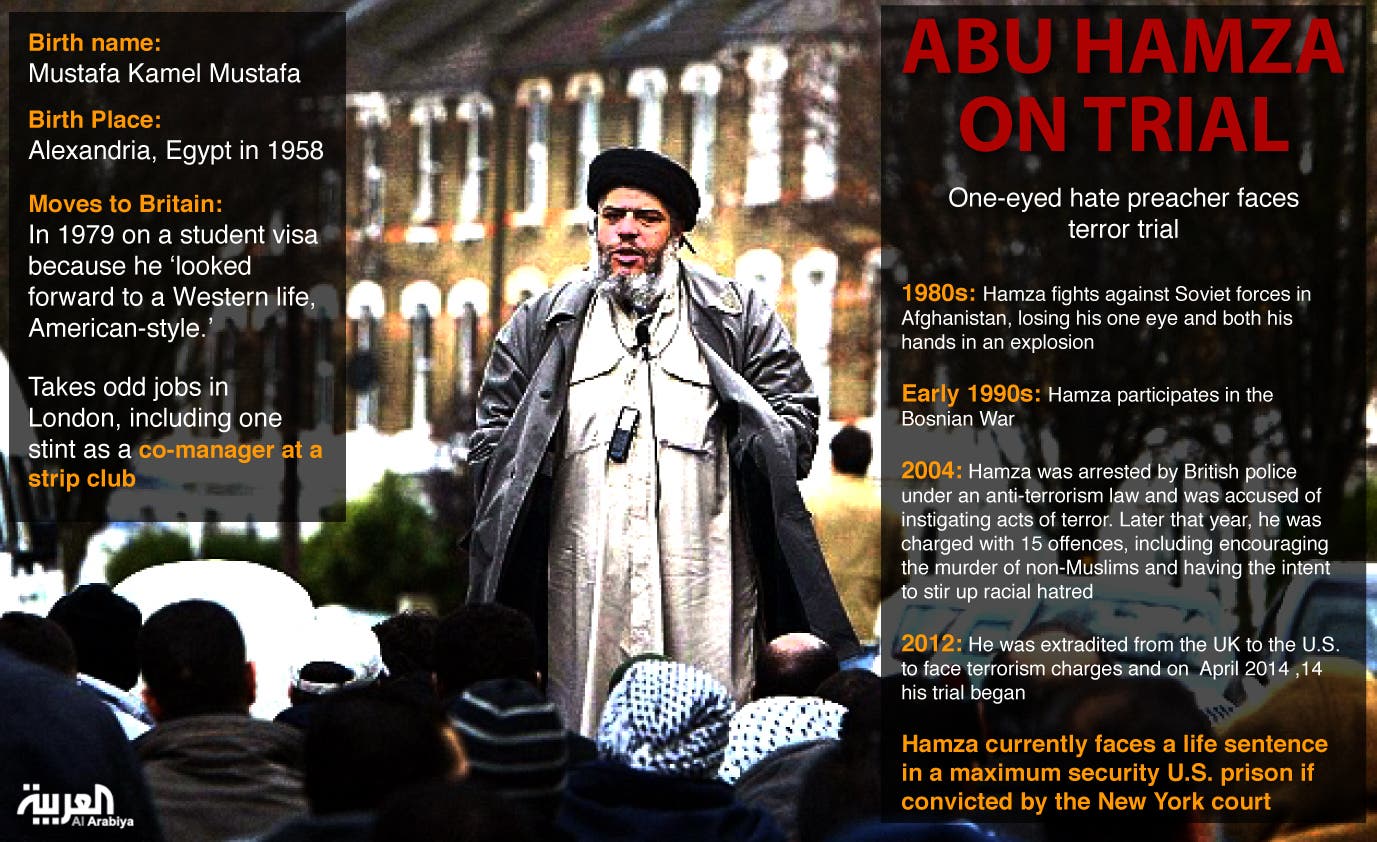 Attending court hearings has become something of a way of life for Abu Hamza who, after facing terror charges in the UK a decade ago, now faces a fresh barrage after his extradition to U.S. soil.
However, the 56-year-old former had somewhat different beginnings, including the revelation that in his youth he managed a strip club, which could reveal a more relaxed, more relatable side.
Also read: British hate preacher managed London strip club
Abu Hamza was born as Mustafa Kamel Mustafa in Egypt's cosmopolitan coastal city of Alexandria to a middle class family in 1958.
At the age of 21, the young, secular-minded Mustafa, who was seeking a "Western life, American-style," decided to seek his fortune abroad, heading to the UK on a student visa.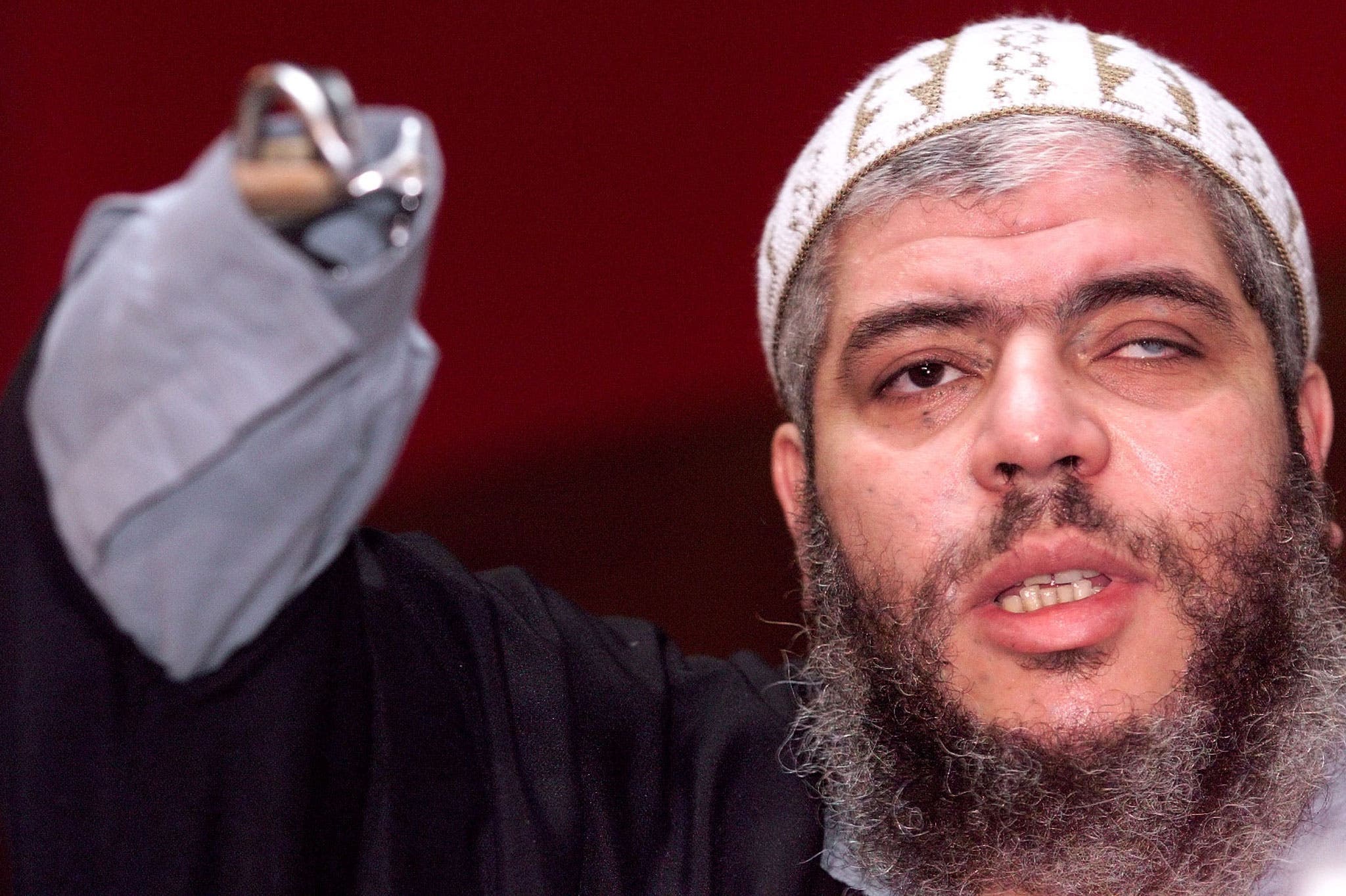 While he initially planned to study in Brighton to become a civil engineer, Mustafa initially stayed at the college for just one month, then kept applying to extend his leave to remain.
In nearby London he took odd jobs, including a stint as a hotel receptionist, a nightclub bouncer, and a co-manager of a strip club.
Disputed
However, Mohammed al-Shafi, a senior journalist at London-based Arab daily Asharq al-Awsat who has covered terrorism and met Abu Hamza personally, disputes this account.
"He was not running a nightclub. He was a bodyguard in the nightclub," Shafi, who was acquainted with Abu Hamza from the time of his conversion to Islam in the 1980s, told Al Arabiya News
This stint as a bouncer was "until he came to Islam. Before that, he knew nothing about Islam. Then when he came to Islam, he started reading and reciting the Quran, and then he started to be a real Muslim."
However, by the time he began preaching at London's Finsbury Park mosque in the late 1990s, Abu Hamza's faith had taken on a decidedly fiery streak, Shafi said.
"He was really tough. I saw him once in the mosque. He was arguing with one of the worshippers... One of the new converts argued with him and he told him, 'if you are going [to argue with me] again, I'll come down…' This meant that he [Abu Hamza] was going to beat him up."
Abu Hamza's response appeared to pacify the young convert, who "got frightened" and henceforth "shut up."
In another incident, when Abu Hamza was preaching in front of the mosque, he asked the policemen "who were coming [there] to protect him" to convert to Islam.
Turning down his call, the policemen "were laughing."
In response, Abu Hamza furiously told them: "MI5 is watching me, MI5 is recording me."
Although later seeing his position in the club as on the "wrong side of morality," at the time Mustafa's primary reasons for doing the job were to "make money and enjoy myself."
Meanwhile, he had got involved with Valerie Traversa, a British woman from Chelsea. They married in May 1980.
Overstaying
That same year Mustafa was arrested for overstaying his time in the UK, but was then given leave to stay in the country indefinitely in 1982.
Having saved up enough money from his various jobs, Abu Hamza finished his degree in civil engineering in Brighton's Polytechnic University, later working as a contractor at Britain's famed military training academy Sandhurst.
Despite Mustafa and his wife's new commitment to Islam, their marriage ended in 1984. They had a son, Mohammed Mustafa Kamel.
That same year, Hamza remarried, this time to Moroccan Najat Chaffe, whom he remains with to this day. Their marriage produced seven children.
In 1986, having resided in the UK for five years, Mustafa was given British citizenship. However, his religious convictions soon began turning towards a more radical interpretation of the Quran.
Hamza would later return to his homeland, reinventing himself as a "sheikh" (Islamic leader).
He then travelled to Pakistan and Soviet-occupied Afghanistan. Although his participation as a possible jihadist in the conflict is unclear, he returned to the UK missing an eye and both hands.
Afterwards, he would begin wearing hooks on the end of both arms.
The making of a radical
However, within two years he had left Britain again to support Bosnian Muslims during the civil war.
Then in 1997, he began preaching at London's Finsbury Park mosque, later known as a hotbed for Islamic extremism in the capital.
In a surprise revelation, Abu Hamza's defense lawyers this week told the courtroom that their client had worked for British domestic intelligent service MI5, and was tasked with "keeping the streets of London safe."
However, one former Al-Qaeda infiltrator painted a slightly different account of the involvement of British intelligence with Hamza.
Omar Nasiri, a Moroccan spy who infiltrated the radical group between 1994 and 2000, said in his 2008 book "Inside the Jihad: My Life with al-Qaeda" that both British police and MI5 met with Hamza some time in 1994 after he took the lead at Finsbury Park mosque, believing that while "at the very least a troublemaker," he did not wish to target the UK and was not a direct threat.
"British officials argue that… they could not prosecute anyone for activities overseas and were instead warning individuals not to plan anything in the UK," according to the book.
However, Shafi does not believe the lawyers' claim that Abu Hamza's involvement with MI5 was at all extensive.
"Probably they met him to take his advice, but this is a very weak story," said Shafi.
Abu Hamza will be spared the death penalty, or being transferred to Guantanamo Bay or a "supermax prison," due to extradition only being agreed to when this was guaranteed.
However, some see Abu Hamza in a more positive light.
Hani Sibai, an Islamist Egyptian Sunni scholar and London-based lawyer who was a neighbor of Abu Hamza, slammed the cleric's detention at the hands of UK and U.S. authorities.
"I have known Abu Hamza for years," Sibai told Al Arabiya News. "His family and kids are here, they're still our neighbors."
"The UK has a better judicial system, one that's even better than the United States, but despite this America is getting involved because there's no actual proof against Abu Hamza."
"I'm expecting the worst," said Sibai, speaking about the outcome of the trial, adding that he has "absolutely no hope that Abu Hamza will be released."