As crowds of Muslims gathered on Monday in Arafat, southeast of Makkah, pilgrims marked the most essential ritual in the hajj journey.
Thousands of people mounted the Jabal al-Rahma (Mercy Mountain) next to which the Prophet Mohammad was believed to have stood and prayed while facing the Ka'aba at the center of the Grand Mosque in Makkah.
Hajj: A Spiritual Journey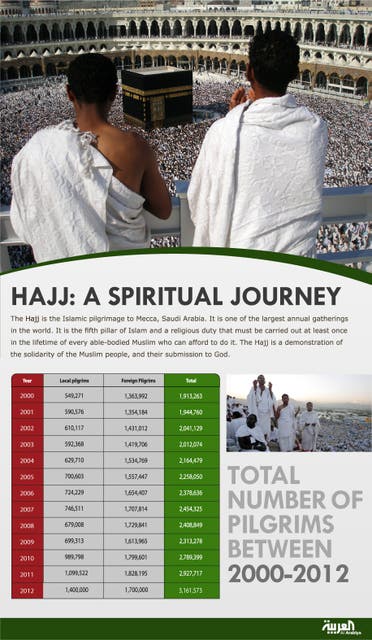 On reaching Arafat, they crowded onto the mountain and the vast plain surrounding it to pray until sunset, when they are due to set off for nearby Muzdalifah.

"I will pray the whole day for God to improve the situation for Muslims worldwide and an end to disputes and bloodshed in Arab countries," 61-year-old Algerian pensioner Saeed Dherari told Agence France-Presse.
But some Muslim women and men who held up their hands to pray towards the mountain were told by their fellow pilgrims that they should face the Ka'aba, and that praying to the mountain is un-Islamic.
"We've told them many times that they should face the holy Ka'aba, but they don't listen," said a security officer at Arafat who was organizing the flow of pilgrims.
By midday, the numbers of pilgrims swelled, blanketing streets in the center of Arafat leading to the Mosque of Nameera, where Saudi Grand Mufti Sheikh Abdel Aziz al-Sheikh gave a sermon to hundreds of thousands of people.
Sheikh urged Muslims to put aside their differences for the sake of unity and nation building.
Thousands set camps on the side roads, while trucks loaded with charity products were giving out water, milk, biscuits and other food and drink. Umbrellas were also given out to protect people from the scorching sun.
Marching groups of pilgrims were seen reciting prayers as civil defense helicopters flew overhead.
The number of pilgrims this year has been put at almost 1.5 million, according to Saudi authorities.
Hajj officially began on Sunday when pilgrims from all over the world began travelling from the holy city of Makkah to Mina, which is roughly eight kilometers away.
On Monday, pilgrims were to stay in Arafat until sunset and then head to Muzdalifa, where they will spend the night before moving on in the morning to start the ritual of symbolically stoning the devil.

Hajj, which officially ends on Friday, must be performed by every Muslim with the physical and financial means to do so, at least once in their lifetime.
(With AFP)