ISIS wife blogs on romance and 'martyrdom'
'Shams' tells a tale of love and loss with the Islamic State of Iraq and Syria
All you need is love The Beatles sang, and the lyrics are coming alive in the most unlikely of places: among the ranks of terrorist organization the Islamic State of Iraq and Syria (ISIS).
A tale of love and loss more suited to the pages of a novel is being bared on social media by the self-claimed Malaysian wife of an ISIS fighter in Syria.
The 26-year-old Malaysian doctor, who calls herself "Shams," traveled to the war-torn country and entered into an arranged marriage with a fighter, according to her social media accounts and her blog "Diary of a Muhajirah."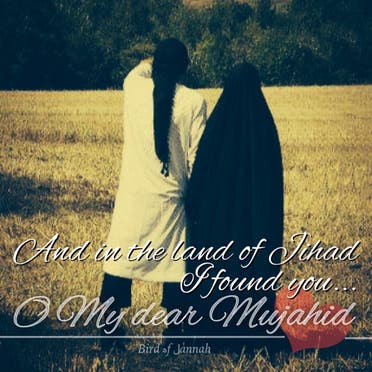 She said that she joined the organization, which has orchestrated beheadings and has overrun parts of Iraq and Syria in recent months, in February and adds that she was "excited" but also sad to leave her family behind.
Her social media posts indicate that she traveled to Syria via Turkey. She states that her parents were upset at first but then "supportive and happy."
After two months in Syria, Shams was betrothed to an ISIS fighter, in a marriage arranged by her housemate, she said. According to her posts, she met and married her husband on the same day, declaring that she was "nervous [and] scared" before flipping her face covering to greet her spouse-to-be.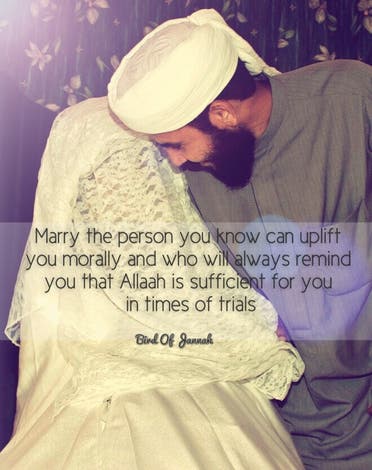 "He smiled. And he asked a question that I shall never forget for the rest of my life.
"Can we get married today? After Asr?
"Deep inside my heart shouted, noooo. But I have no idea why I answered 'Yes,'" Shams reported on social media.
Shams then obtained permission from her father over the phone.
"I spoke about this issue to him and I can hear my mother was shouting in joy at the back," she stated.
According to Shams, it is not uncommon that newly-introduced married couples in ISIS do not share the same language.
Shams later wrote that she and her husband downloaded dictionary apps to be able to communicate with each other in the initial stages of their marriage.
Overcome with emotion, Shams details the moment she realized her love for her new husband. After praying together the morning after their nuptials "he turned back and smiled at me. And I can feel something. Yes, I guess I just fell in love with someone — my husband!"
Four days after their wedding ceremony, Shams confronted the reality of being wed to an ISIS fighter upon visiting the home of a woman whose husband had been killed in battle.
"We entered the house, I saw there was almost 20 sisters. No body cried," she said.
She carried on: "I went back home. My husband was quiet; perhaps he understood I need some time. I looked at his face, I'm married to him for 4 days and I felt so much pain.
"Abu al-Baraa," she wrote, referring to her husband, "just don't leave me too soon. Please."
Halal humor:
In another post on her blog, the woman shares an excerpt of what she called "halal humor," an chat between her and her husband.
Wifey : Ma sha Allāh. You look so handsome today.
Hubby : Really? *smiles*
Wifey : Yes Habibi. Even the moon would be so jealous of you.
Hubby : Ahhh my wife! I'm taking you out for dinner today.
——
Hubby : Ma sha Allāh you look so beautiful today!
Wifey : Does that mean I look ugly everyday? *annoyed*
Hubby : No no habibty. You see, even the moon would be so jealous of your beauty today..
Wifey : It's raining and there's no moon.. Good joke. No dinner for today!
"Reality Check"
Eleven days after they got married, Shams says her husband went off for an operation.
"It was the most heart breaking thing I have ever heard since I came to Syria. I can't deny that my heart bleeds and I can't hold my tears," she wrote.
"After our breakfast, I prepared his bag and handed his kalash to him. I couldn't even look at his face, the pain was killing me. He noticed my gloomy face and said this to me: "Habibty, I'm married to Jihad before I'm married to you. Jihad is my first wife, and you're my second. I hope you understand."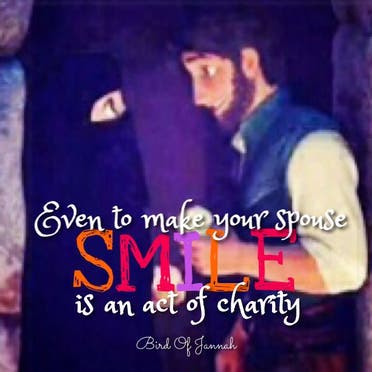 "He kissed my forehead and left. I stood at the door hoping that he would knock the door or return back, but he didn't," she continued.
"Soon after he left, I felt so much emptiness. Although it was just 11 days after our nikah, I felt like we have been living together for 11 years."
"Now, it has become a routine. Each time he leaves the house, I would remind myself that this could be my last time with him."
"And each time before he leaves, he say this to me: 'If I didn't make it, may we meet in Jannah. In sha Allāh… "
In August, Shams stated that she is expecting her first child and added that she was visiting a local hospital for regular ante-natal check-ups.