'Hug a Muslim' project goes beyond Toronto
The 'hug a Muslim' Blind Trust Project has gone beyond Toronto's shores to reach New York, Sweden, Germany and Norway
In Toronto, a blindfolded man stands between two signs with his arms extended. The first sign reads "I am a Muslim, I am labeled as a terrorist" and the second reads "I trust you, do you trust me? Give me a hug."
Photos and videos of the stunt went viral on social media and the world watched as the man was enamored with hugs.
The experiment, which was part of the Blind Trust Project initiated by three Canadian students, went on to inspire others to test the waters in New York, Germany, Sweden and Norway.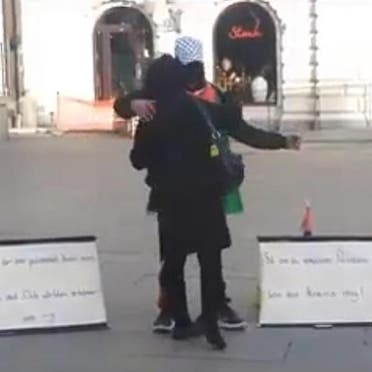 In the Big Apple, YouTuber Karim Metwaly recently tried his luck with notoriously tough-talking, busy New Yorkers.
While initially his tired shoulders started to shudder, he eventually got his prize: Not one hug but many.
"Damn that made me happy seeing a Jew hugging a Muslim that made my day! Good video Karim God bless you!" one commentator wrote on YouTube.
In Germany, a Syrian man also had his fair share of hugs.
The students who initiated the project told The Huffington Post Canada that they did not know what to expect.
Maaz Khan, who created the initial video in partnership with Mustafa Mawla and Asoomii Jay, said that the idea of blindfolding Mawla and asking for hugs came to them while shooting another video.
"Anyone could have punched him, or hurt him. It was really nice to see people being nice," Khan said.
While the success of the video was unexpected, Khan said, he described himself as happy to have sent a positive message of co-existence in a climate tainted by apparent Islamophobic events, such as vandalism at an Alberta mosque and the murder of an Iraqi immigrant in the United States.
"We put a blindfold on so he couldn't see, it could have been anyone hugging him. We were open to anyone," he said.