Get rich or die trying? Secrets to success of world's 50 richest people
The youngest billionaire, of course, is the 31-year-old co-founder of Facebook, Mark Zuckerberg
It may be hard to comprehend that a small number of individuals could be worth the same as a whole country, but Wealth-X's latest 'rich list' shows that the top 50 wealthiest people in the world have a combined fortune of $1.45 trillion. That's nearly equal to the GDP of Australia.
The recently released report – compiled by the wealth intelligence firm in collaboration with Business Insider – shows that the United States is home to 29 billionaires on the list, more than any other country. Only one billionaire from the Arab world – Saudi Arabia's Prince Al-Waleed bin Talal – made the top 50.
But that doesn't mean that they're the only rich people in the world of course. In fact, there are a lot more billionaires than you may think.
"No one knows billionaires like we do," Mykolas Rambus, Wealth-X CEO, tells Al Arabiya English. "Forbes has identified 1,694. [As of today] we have found 2,355."
Men vs. women
Back to the top 50, however, and there are a few key trends. Firstly, there's a distinct lack of female billionaires – with only 4 in the top 50 compared to 46 male billionaires. But the oldest billionaire goes to a woman: 93-year-old L'Oreal heiress Liliane Bettencourt, who's ranked the 17th wealthiest person in the world, with a net worth of $29 billion.
Tech on top
Meanwhile, when it comes to the sector with the most billionaires, technology comes out on top, thanks to 13 personalities in the top 50 that includes Amazon CEO Jeff Bezos – estimated to be worth $56.6 billion – as well as Google co-founders Larry Page [$38.5 billion] and Sergey Brin [$37 billion].
The youngest billionaire, of course, is the 31-year-old co-founder of Facebook, Mark Zuckerberg. He's ranked eighth, with a net worth of $42.8 billion.
So is there a reason why they're more successful than others? What do they like to do? What traits do they have in common? Rambus gives us the lowdown on what makes a billionaire.
1) There is only one characteristic billionaires have in common: "And that is an obsessive personality," says Rambus. "Their financial wealth is only a powerful indicator of their behavior."
2) Traditional education isn't a key factor. "Learning yes, education no. Billionaires are some of the most learned people on the planet, but not necessarily heavily degreed."
3) But working hard definitely is. "Billionaires are on balance some of the very hardest working people you will ever meet. Consider them as having mastered work-work integration. Remember, they are obsessive personalities whose success happens to be manifested through money."
4) Good diet and fitness habits play a large role in their success. "Barely sleeping and being constantly on the go requires constant physical maintenance."
5) They use their money differently. "Most billionaires are entrepreneurs, and a result they are used to taking risks. It is how they made often times their first fortune and have grown it since," Rambus explains. "But to be clear, billionaires take highly calculated risks, and many of them would not see their decisions as risky at all, and they look for opportunities constantly."
Infographic: Secrets to success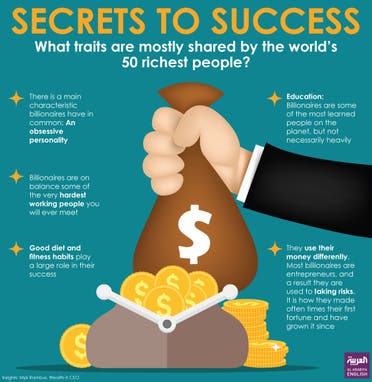 LIST: The top wealthiest people in the world
1. William [Bill] Gates III – $87.4 billion
2. Amancio Ortega Gaona – $66.8 billion
3. Warren Buffett – $60.7 billion
4. Jeffrey Bezos – $56.6 billion
5. David Koch – $47.4 billion
6. Charles Koch – $46.8 billion
7. Lawrence Ellison – $45.3 billion
8. Mark Zuckerberg – $42.8 billion
9. Michael Bloomberg – $42.1 billion
10. Ingvar Kamprad – $39.3 billion