The calm that preceded the 'Decisive Storm'
Operation Decisive Storm came as an absolute surprise to most observers
As Operation Decisive Storm continues to successfully degrade the military capabilities of the Houthi militias and emasculate their illegitimate power grab campaign in Yemen, it is worth reflecting a bit on the quiet period that preceded the swift and sudden Saudi-led intervention.
In fact, it would be fair to argue that Operation Decisive Storm came as an absolute surprise to most observers as it portrayed a Saudi ability and willingness – when required - to implement a rapid military 'Shock and Awe' strategy.
As columnist Nawaf Obeid puts it in a recent Washington Post article, the sudden launch of the recent operation in Yemen 'Should serve notice to the world that a major generational shift underway in the kingdom is sure to have far-reaching geopolitical ramifications'.
According to Obeid, who is a visiting fellow and associate instructor at Harvard University's Belfer Center for Science and International Affairs, the new Saudi leadership — centered on a cadre of youthful, dynamic royals and technocrats — is developing a foreign policy doctrine to address long-standing regional tensions. This doctrine is based on the legitimacy of the Saudi monarchy and the centrality of the kingdom to the Muslim world.
Evidently, the Saudi-led campaign against the Houthis and militias loyal to the deposed former leader Ali Abdullah Saleh garnered massive Arab, Muslim (apart from Iran which continues to back the Houthi coup) and international support – and perhaps deserves recognition for being one of the very few topics to get bipartisan support at the U.S. Congress as well as from the White House.
Operation Decisive Storm came as an absolute surprise to most observers as it portrayed a Saudi ability and willingness – when required - to implement a rapid military 'Shock and Awe' strategy
Faisal J. Abbas
However, despite Saudi Arabia's strategic position and its incredible religious, political and economic importance, obtaining such global support and forging such a solid alliance is not a coincidental matter nor could it be achieved overnight.
Nevertheless, the coalition was still brought together in record time, namely within the few weeks that fell in between King Salman's ascension to the Saudi throne late January and preceded the inauguration of Operation Decisive Storm on 25 March. (Record time is note-worthy, given that for years, Saudi Arabia wasn't known for its ability to make rapid decisions or take quick action).
In the weeks that followed his inauguration, King Salman met – almost on a daily basis – with tens of world leaders and delegates. Evidently, the meetings – particularly with the likes of Egypt's Sisi, Turkey's Erdogan and Sudan's Bashir, were about much more than the official statements he had announced at the time.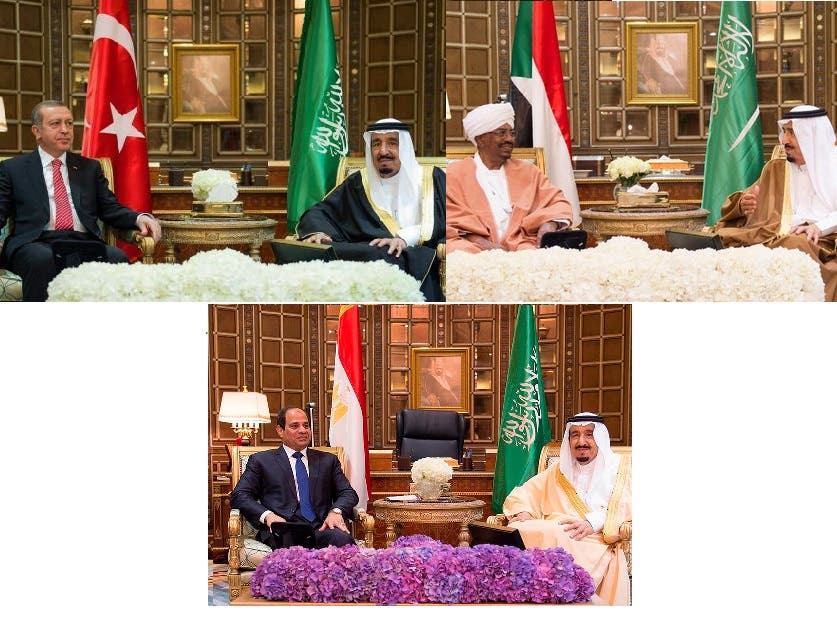 During these rapid, back-to-back meetings, the Saudi leadership managed to successfully convince traditional rivals such as Turkey and Egypt to put aside their differences and get them both to commit to a common cause. It also managed to bring Sudan back into the Arab fold after years of warming up to Tehran. (Sudan – with its vital geographic proximity to Yemen – is fully backing the coalition and has contributed three fighter jets).
Furthermore, following a casual get-together where GCC leaders over a weekend gathering with King Salman at the Auja traditional palace; it seems the infamous Gulf rift has been – at least for now – resolved, with Qatar contributing 10 fighter jets and seemingly being in full-support of Operation Decisive Storm (Oman, typically, didn't contribute militarily but it didn't oppose the air campaign. Its non-interference has been reportedly agreed on with other Gulf countries.)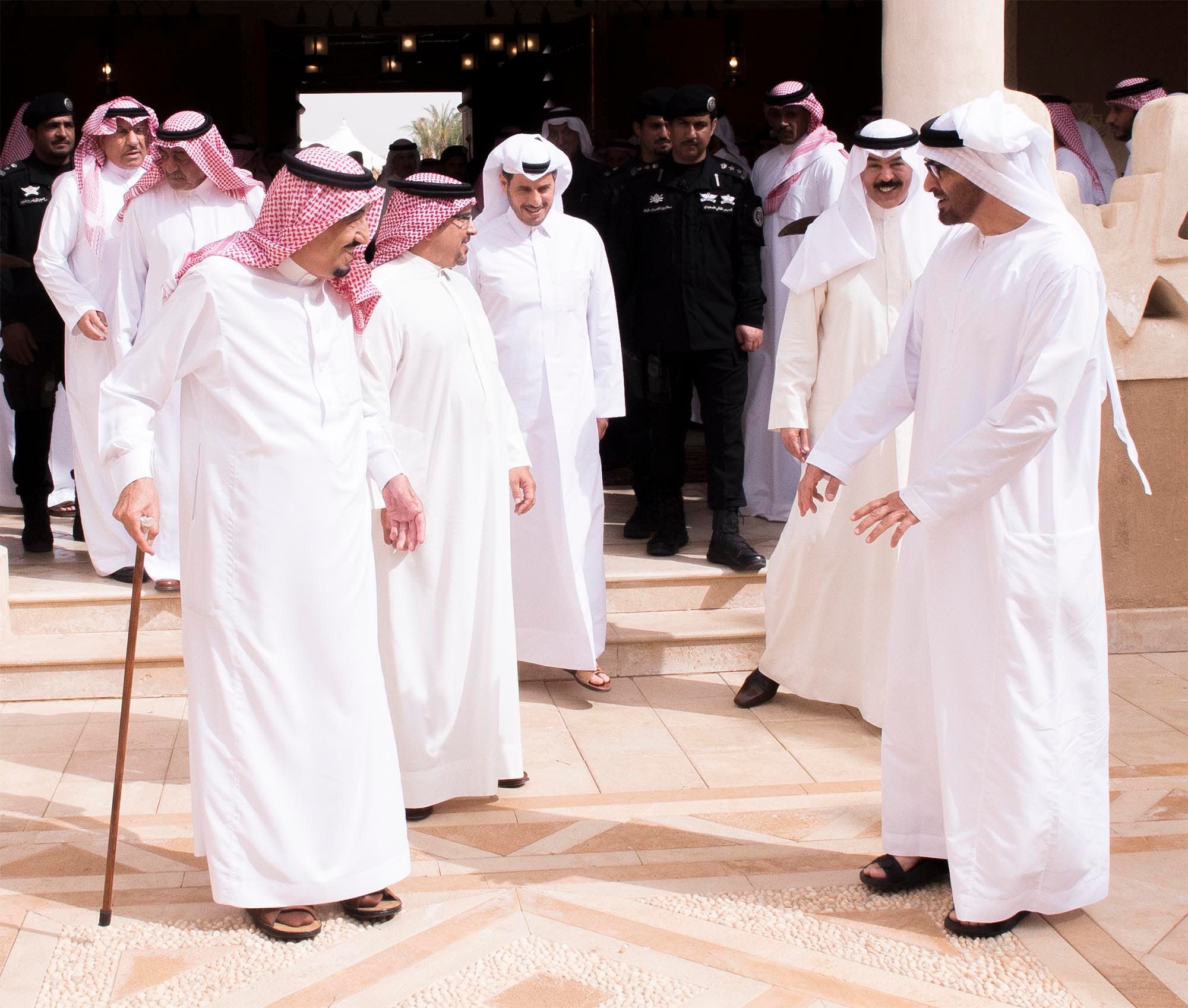 Let us not forget the Saudi-backed announcement of the formation of a joint Arab military force at the recent Arab League summit in Sharm El-Sheikh and the fact that within hours of announcing the commencement of military strikes, Royal Saudi Air Force (RSAF) pilots managed – almost instantly – to take control of Yemeni airspace and target and eliminate a number of senior Houthi leaders (apart from the courage and excellent training of RSAF pilots, this is also a very good sign of successful intelligence sharing which was coordinated and agreed prior to the attacks.)
With the situation continuing to develop in Yemen, the Houthi militias will be well-advised to accept King Salman's invitation to come back to the negotiating table without prior conditions, accept the legitimacy of President Hadi and work together with him and the global community to re-build Yemen. Indeed, Abdulmalik al-Houthi, his backers in Tehran and their fox ally, deposed leader Ali Abdullah Saleh, must understand that they have entered a war they simply can't win and that with such a coalition, they are literally surrounded and helpless in the face of a new, pro-active and determined Saudi Arabia.
_____________
Faisal J. Abbas is the Editor-in-Chief of Al Arabiya English, he is a renowned blogger and an award-winning journalist. Faisal covered the Middle East extensively working for Future Television of Lebanon and both Al-Hayat and Asharq Al-Awsat pan-Arab dailies. He blogs for The Huffington Post since 2008, and is a recipient of many media awards and a member of the British Society of Authors, National Union of Journalists, the John Adams Society as well as an associate member of the Cambridge Union Society. He can be reached on @FaisalJAbbas on Twitter.