Pro-ISIS leaflets target London shoppers
Some shoppers in Oxford Street were given leaflets which urged Muslims to support and obey the new Caliphate
Brochures urging Muslims to leave Britain and join the Islamic State of Iraq and Syria (ISIS) group were and handed out to Oxford Street shoppers in central London, The Daily Mail reported Wednesday.
The newspaper said men, who stood in front of posters declaring "the dawn of a new era has begun," were handing out pro-ISIS brochures.
"The khilafah (Caliphate) has been established," one leaflet read, in reference to territories gained in Iraq and Syria after ISIS waged its lightening offensive in recent weeks.
Another leaflet said: "We have been living in a constant state of ignorance, our lands separated, resources stolen, ummah disunited, honor humiliated and the laws of shirk established over us."
The leaflet said Muslims around the world have "many great responsibilities towards the success and spread of the khilafah across the world."
It also sets out seven rules for supporters, including to "obey" the Caliph, Sharia law, "migrate" from the UK to the caliphate and "expose lies" about the extremist group.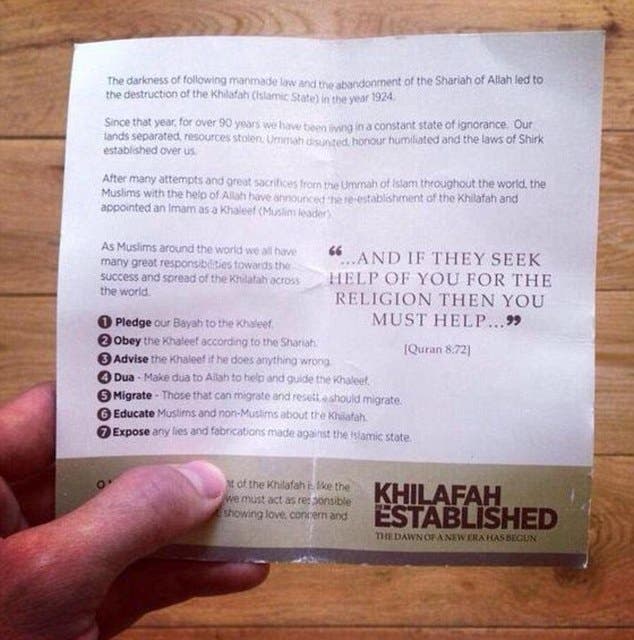 A Met spokesman said: "The MPS has been made aware, via social media, of leaflets which reports state were being distributed in the Oxford Street area. We are assessing the content of the leaflets to establish whether any criminal offences have been committed."
Chris Doyle, director of the London-based Council for Arab-British Understanding (CAABU), described the act as "extremely distasteful and upsetting."
Doyle added that it is hard to say whether this kind of open support for ISIS could lead to arrest.
"What can be done is very difficult, there are issues, freedom of speech. The issue [of whether] they are actually promoting terrorism and crime," can be questioned, he said.
"Even by arresting them, you could give [them] publicity," he said, adding that "they represent a very very small number of people in this country as the overwhelming majority of Muslims both hate and despise what ISIS stands for."
Mudassar Ahmed, a political media analyst and chief executive of London-based PR agency Unitas, also said these ISIS supporters represent "a very tiny minority."
"They do not represent the Muslim community at large, and they are just a bunch of trouble makers who decided to do this," he said, adding that "nobody will take them seriously."
These ISIS supporters can only be persecuted if they are in fact promoting violence or hatred, Ahmed explained.
Doyle also dismissed that the dissemination of such pamphlets was an "effective" way for recruitment, as he said enrolling ISIS diehards usually takes place through personal networks.
"I doubt the pamphlets in Oxford Street will attract any more people to go out in Syria or Iraq, but it just demonstrates that there are people prepared in public to say 'we support these people,' and that is very sobering and very worrying."