Egypt's Vice President Mohammad ElBaradei resigned on Wednesday saying he couldn't bear the responsibility for decisions he disagreed with.
ElBaradei's resignation came after more than one hundred people were killed in a crackdown by security forces to clear protests by supporters of ousted President Mohammad Mursi.
In a resignation letter to Interim President Adly Mansour, ElBaradei said that "the beneficiaries of what happened today are those who call for violence, terrorism and the most extreme groups."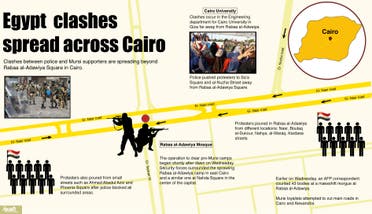 Mursi loyalists are calling for the re-installment of the Islamist leader who was toppled by a popularly backed military coup on July 3. They were warned by the country's military to clear their sit-ins by Wednesday.
ElBaradei, a Nobel Peace Prize laureate, said "there were more peaceful ways" to solve the country's crisis.
"As you know, I saw that there were peaceful ways to end this clash in society, there were proposed and acceptable solutions for beginnings that would take us to national consensus," Reuters quoted him saying in his letter.
He added: "It has become difficult for me to continue bearing responsibility for decisions that I do not agree with and whose consequences I fear. I cannot bear the responsibility for one drop of blood."
Meanwhile, Tareq Fahmy, professor of International Relations at Cairo University, told Al Arabiya that Baradei's resignation will not affect the political roadmap unveiled by the army when the Mursi was overthrown.
Last week, Egypt said efforts by international envoys to find a solution for the country's crisis had failed.
Egypt's first freely elected president, Mursi is now being detained at an undisclosed location.
(With Reuters)