ISIS claims deadly car bomb in Yemeni capital
The militant group said it had targeted the area 'out of revenge for the Muslims against the Houthi apostates'
A car bomb claimed by ISIS exploded in the Yemeni capital Sanaa overnight, medics said, wounding at least 28 people gathered to mourn another attack earlier this month.
"The explosion was caused by a car bomb which exploded behind the military hospital in the Sha'oub district in Sanaa, which injured 28 people including 12 women in a building where victims of a previous attack were being mourned," a medical source told Reuters news agency.
Infographic: ISIS claims deadly car bomb in Yemeni capital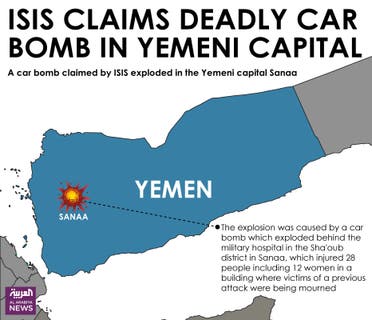 Among those killed were eight women, Agence France-Presse reported.
In a statement posted online, ISIS claimed responsibility for the blast, saying it had targeted the area "out of revenge for the Muslims against the Houthi apostates."
According to AFP, the car bomb targeted Houthi militia chief brothers Faycal and Hamid Jayache during a gathering to mourn the death of a family member, a security source said.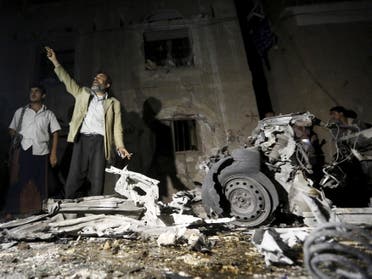 The militias closed down the surrounding area in the center of the city after the attack, only allowing through emergency services to help evacuate the victims, witnesses told the news agency.
Meanwhile, Yemeni forces launched a Scud missile at a missile base in Saudi Arabia on Tuesday, Yemeni state news agency Saba quoted the military's spokesman as saying.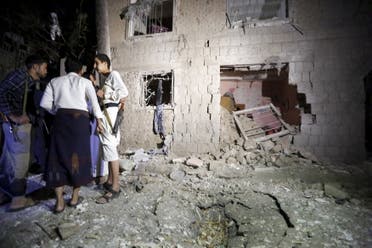 In a new sign that three months of war in Yemen was ratcheting up, the country's military spokesman said its forces had launched a Scud missile at a Saudi military base on Tuesday.

A Saudi-led military alliance has been bombing Yemen's dominant Houthi group and its allies in the army to dislodge them from the capital and restore the exiled president.
(with AFP and Reuters)