Suez Canal 'temporarily suspending navigation' until cargo is reloaded: Officials
The Suez Canal temporarily suspended traffic on Thursday as efforts to dislodge a 400 m (430 yard) long container vessel that has blocked the waterway continued for a third day, with eight tugs working to straighten the ship.
The Ever Given vessel, almost as long as the Empire State Building is high, ran aground diagonally across the single-lane stretch of the southern canal on Tuesday morning after losing the ability to steer amid high winds and a dust storm.
For all the latest headlines follow our Google News channel online or via the app.
It is now blocking transit in both directions through one of the world's busiest shipping channels for goods, oil, grain and other products linking Asia and Europe.
Eight tugs, the largest of them with a towing power of 160 tons, have been trying to push and pull the Ever Given free of the canal's banks, the Suez Canal Authority (SCA) said in a statement.
Thirteen vessels that sailed south from Port Said in a convoy on Wednesday had dropped anchor in the Bitter Lakes waiting area until navigation could be resumed, it said.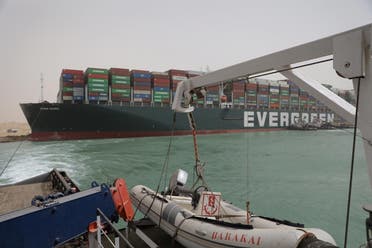 Peter Berdowski, CEO of Dutch company Boskalis, which is trying to free the ship, said it was too early to say how long the job might take.
"We can't exclude it might take weeks, depending on the situation," Berdowski told the Dutch television program "Nieuwsuur".
He said the ship's bow and stern had been lifted up against either side of the canal.
"It is like an enormous, beached whale. It's an enormous weight on the sand. We might have to work with a combination of reducing the weight by removing containers, oil and water from the ship, tug boats and dredging of sand."
Several dozen vessels, including other large container ships, tankers carrying oil and gas, and bulk vessels hauling grain have backed up at either end of the canal to create one of the worst shipping jams seen for years.
Bernhard Schulte Shipmanagement (BSM), the technical manager of Ever Given, said dredgers were working to clear sand and mud from around the blocked vessel while tugboats in conjunction with Ever Given's winches work to shift it.
Read more:
Rescue teams to work on plan to refloat ship stuck in Suez Canal: Evergreen
Attempt to refloat cargo ship in Suez Canal 'unsuccessful:' Manager