How Dubai is becoming an even bigger magnet for celebrity chefs
Recently we have seen lots of restaurant branches open all over the city, overseen by their investor master chefs.
Dubai seems to be a magnet for celebrity chefs from around the world, and recently we have seen lots of restaurant branches open all over the city, overseen by their investor master chefs.
I mistakenly thought Dubai's Marina Social was the first step outside London for Michelin-starred British chef Jason Atherton, who trained with gastronomic giants Ferran Adria of El Bulli and then Gordon Ramsey. Now chef-turned-entrepreneur, at 44 years old Atherton's Social Group of restaurants spans the globe. Marina Social Dubai is the 17th edition to his culinary empire.
He opened his first restaurant - the Pollen Street Social - in 2011, and gained a Michelin star within six months. Restaurants in Hong Kong and Shanghai followed. London got three more Social restaurants in 2013, and three more opened in Scotland and Hong Kong.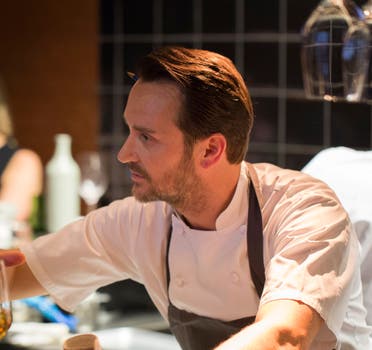 New York got its own in May 2015. Another opened in London's Marylebone. Sydney has a Social branch, and Cebu in The Philippines will get one this year. This is an impressive list for Atherton, who started cooking at school aged 12.
I have eaten twice at the Marina Social in Dubai's Intercontinental hotel, and I have met a chef from another Dubai-based restaurant who has eaten there eight times and says neither he nor his guests can fault it.
I wrote a review of the Social Brunch, and said it was one of the most impressive brunches I had had. The food, setting (including the Limoges plated table settings), service and overall vibe were Goldilocks right. That included the price at AED 395 ($108) or AED 215 ($59) with soft drinks. This combination in Dubai should be a dead cert for a Friday brunch.
Competition
I really hope the restaurant goes from strength to strength - it deserves to. However, no one can fail to notice the burgeoning growth of restaurants in Dubai - top-end and otherwise - all of which are fighting for loyal diners.
To give you a flavor of what is new in town, Japanese Ramusake from London is opening at the Hilton in Jumeirah in May, Weslodge Saloon from Toronto opened on the 68th floor of the JW Marriott Marquis this week, the Amwaj Rotana opened a new Gastropub - JBs in mid-March, and Satine of Nikki Beach club-fame opened in the new Pearl Jumeirah area of Dubai, a few minutes from Satwa. The list goes on.
According to a recent article in Hotelier Middle East, another 1,600 restaurants will open in the United Arab Emirates (UAE) by 2019. That is a lot of restaurants! Another article from the same publication estimates that 550 outlets will open along the canal in Dubai alone.
One of the few places that always seems to be buzzing day and night is Gate Village in the DIFC, but restaurants there are very accessible to all those who work in and around the area. Moreover, business lunches at places such as Zuma offer a great way to try a swanky restaurant for those without deep pockets.
I do not know how the newer restaurants in adjacent buildings are faring a few months after hyped-up launch parties, but I have not heard of people having to book in advance for tables, despite the venues having household names and queues outside their London counterparts.
I really like the Marina Social, and it would be my first choice for a grown-up meal. I wish Atherton every success with it, but it will take a combination of continual good food, careful supervision, excellent service, strategic marketing and consumer research to ensure it remains a top pick for Dubai's spoilt-for-choice diners.