Bride-to-be tips for choosing the perfect bridesmaid dresses
You have found your dream wedding dress, now it's time to start shopping for your bridesmaids dresses!
You have found your dream wedding dress, now it's time to start shopping for your bridesmaids dresses, no matter the style, or size of your wedding party, we have all the useful tips to help you find the perfect dress for your girls.
Know your theme:
It's always best to match your bridesmaids' dresses to the wedding theme, whether by color, or by design, after all they are an important aspect of the day. Therefore before you start browsing its best to have a clear picture of what you want on your special day.
Browse:
Research magazines, and a girl's best friend Pinterest for different designs, and color schemes that fit your theme. Once you have a few ideas in mind, share them with your bridal party, save the images to a file on your computer, and if you're using a magazine tear the paper out or bookmark them for future reference. This will help you narrow down the styles, and colors you like best.
Latest trends for inspiration:
• Same style, different colors.
• Ombre. (Light to dark shades of the same color)
• Same color, different styles. (Sweetheart, halter top, etc)
• Long and Short.
• Glitter dresses.
• Cropped top & skirt.
Budget:
Hosting a wedding can be costly on a couple and there is at times a dilemma behind who should pay for the bridesmaid dresses. Truth be told, there is no right or wrong way of dealing with this. It really all depends on your budget, there are three ways of handling this awkward situation:
1. The bride pays for her bridesmaids dresses, as a gift for their attendance. Especially if you're hosting an overseas wedding.
2. Let the bridesmaids pay for their own dresses. If this is the option you choose, try to be considerate about the cost of the dress, taking into consideration your friends lifestyles.
3. Split the cost of the dress between the bride and her bridesmaids. A 50-50 option is a good way to mediate.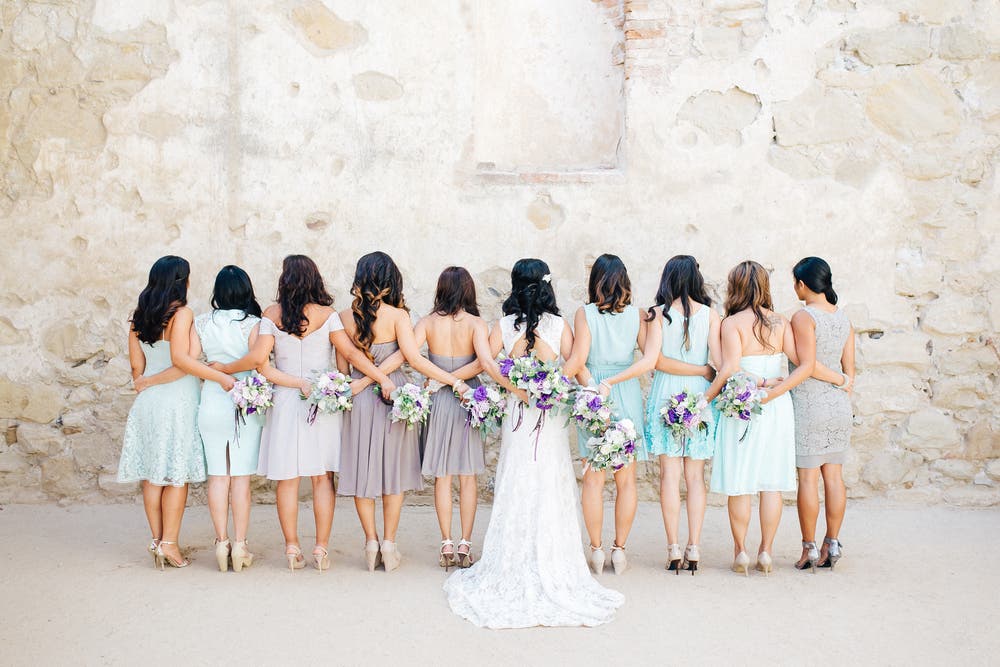 Speak to your girls:
After browsing, you would have a clearer picture of what you want on your wedding day. It's always best to consult your bridal party, be considerate of their feelings, and opinions. However don't forget that it is your wedding after all, and you have a vision that you want to incorporate into their dresses.
It's time to shop:
Pre-shop, it's best that the bride, and maid of honour browse the shops for dresses ahead of scheduling a meeting, therefore when you have an idea of which stores to visit, then you can schedule a group meeting and have your ladies attend. Points to consider while shopping:
• Season:
Is the most important factor when deciding on the perfect dress. If you are hosting a winter wedding, then it would be ideal to choose darker shades i.e. plum, and shades of brown. The season can also effect the material used; thicker materials to keep your ladies warm in the winter.
• Style:
Whether you're sticking to one style for all ladies, or spicing it up with different styles same color, it's best to choose a style that would suit all body types. To make life less awkward, if you have a specific color in mind, have your ladies choose the design they feel comfortable with.
• Color:
Apart from the season, you must also choose a color that will suit all skin tones.
• Ready or tailored?
If you can't find the exact design you are after, maybe it's best to consider having the dresses tailored, that way you will insure they fit perfectly, and are exactly what you wanted. Alternatively if you choose to purchase a dress from a store, you can always have it altered to fit your bridesmaids' size.
• Venue:
If you're having an outdoor wedding, it might be best to consider cover ups for your ladies in case they get cold, a nice colored or customized shawl or mini coat would be ideal.
Once you have decided on all the above, it's best to get your ladies scheduled for fittings, before purchasing, because on most occasions brides change their minds once they see the dresses. Good luck and happy shopping!