Wedding planning: All you need to know about beach ceremonies
For those of you who are planning a beach wedding you are probably daydreaming of the soft sand
Summer weddings are all about the great outdoors. For those of you who are planning a beach wedding you are probably daydreaming of the soft sand, cool ocean breeze, and the perfect natural backdrop, at least those are the pros of beach weddings.
However they do come with some costly cons, like the disturbance of peace with nosy onlookers, ghastly winds interrupting your ceremony, and of course mosquitoes. But when there is a will, there is a way, and we know exactly how to pull of the perfect beach wedding.
Timing is key:
Depending on the climate and country, you will need to consider that in the summer, temperatures can soar high by the ocean. Be sure to provide your guests with plenty of shade. Customized sunglasses are our favourite wedding favours and you may also consider umbrellas, or a canopy. Ideally your guests should start to arrive an hour or two before sunset, to take advantage of the beautiful backdrop.
Flowers:
The heat may also affect your flowers; make sure they are kept in a cool place, and under shade. Ideally you would want to decorate with flowers that have moisture on their petals, like Lilies, Orchids, and Freesias, stay away from roses and hydrangeas as they have a tendency to wilt quickly.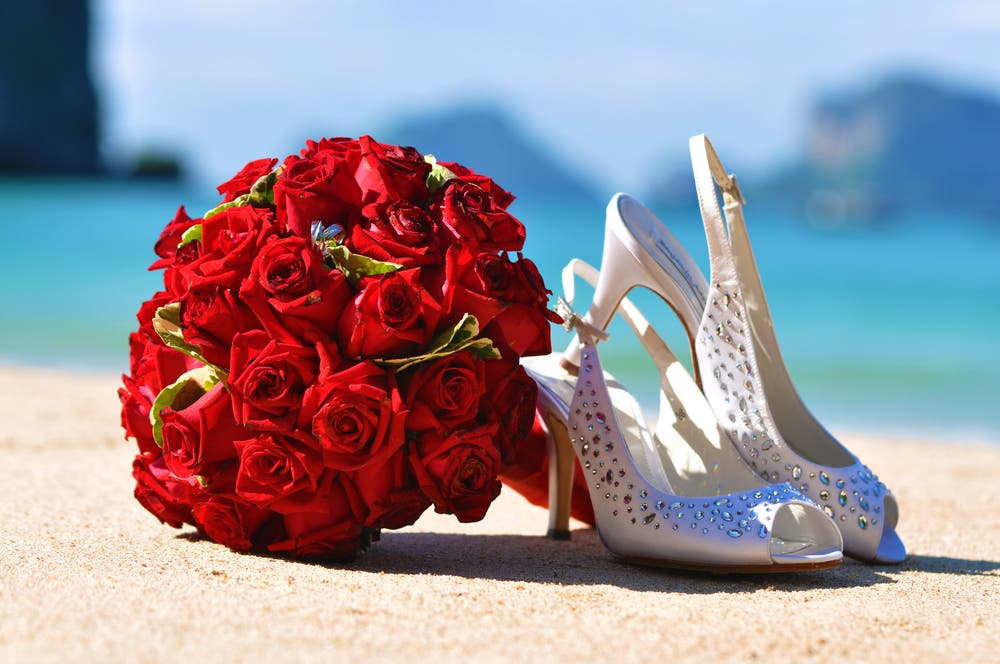 Dress code:
Beach weddings are usually less formal, with more of a smart casual look. For female guests, it would be ideal to wear short or mid-length dresses, they have lighter fabric, which makes it easier to move. As for the bride, let's be honest: beaches are no place for ballroom gowns, or princess dresses, consider lightweight fabric, like charmeuse or chiffon to flow elegantly with the ocean breeze. Sand and heels don't mix, you may be able to get away with a wedge, but beach attire requires flats. Ditch the veil, and invest in beautiful accessories, fascinators, or fresh flower crowns.
Beauty and hair:
The last thing you want on your wedding day is to get struck by the humidity and heat that may frizz up your hair, and melt your makeup. Consider an updo with plenty of hair spray, as for makeup; be sure to use setting spray before, and after your photos, have your bridesmaids carry the necessary essentials to top it up during the night.

Permits:
In some countries, you may need permits to host a beach wedding. Make sure you check with local authorities before you plan your special day.
Privacy please:
Beaches tend to be super crowded during the summer, and weddings are all about privacy, after all, the last thing you want to see in your photos is a man standing in speedos behind you. It's always best to consider hiring an area, or venue such as a restaurant on the beach, but stay away from weekends as the price might double.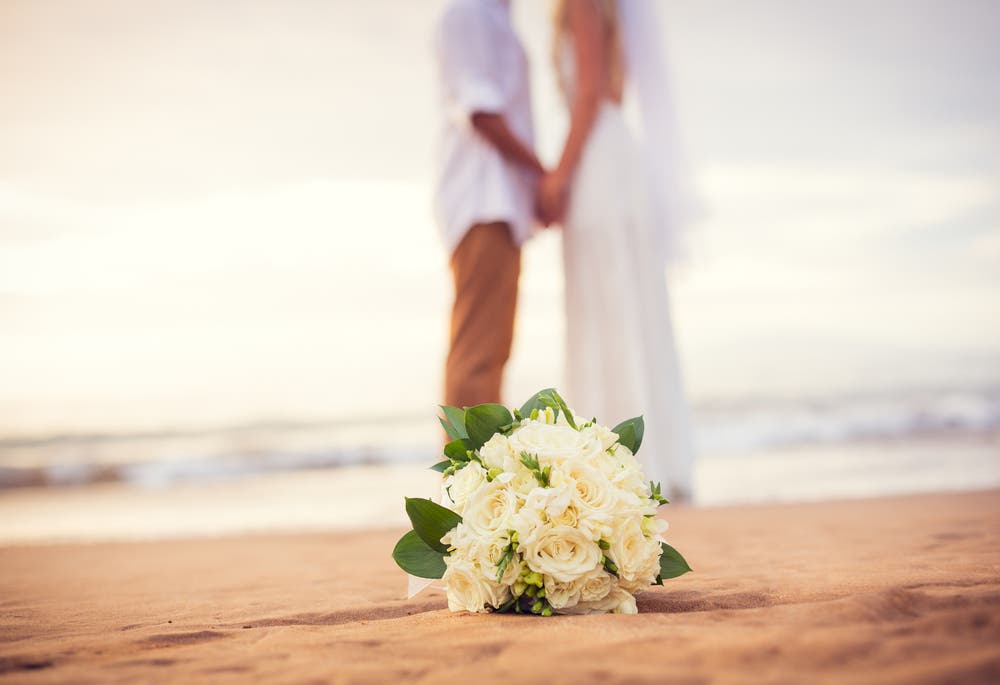 A splash of color:
The beach has naturally pastel tones, such as blues, creams, and whites. To make sure your wedding stands out don't be afraid to add a little color, our favorite is coral.
Turn it up:
Beaches may of natural lighting during the day, but you will need to splash out on lighting and audio equipment for the evening, and ceremony. You may not think of this at the time, but the sounds of the waves can clash with your voice, and your guests may not be able to hear you, hire a wireless microphone to ensure you don't miss out on any moment. Be sure to have your DJ perform a sound check before your ceremony to avoid disappointment.
Backup plan:
When hosting a beach wedding you must always have a backup plan, because sadly even though its summer, the weather can be unpredictable at times. Have a tent or canopy available on site as a backup plan in case things take a turn for the worse.
Photography:
Your photographer shouldn't have a problem with lighting, as long as you stick to your timings. It's always best to inform your photographer ahead of that you are planning a beach wedding; he may have some pointers or special equipment he needs to bring.
Have fun!
Weddings are stressful, but you should always remember to enjoy the moment. Beaches have a more relaxed environment, and you need to stay relaxed too, after all, it's once in a lifetime.