Slap in the face? Jordan and Egypt wrangle after lawmaker attacks waiter
Constitutional immunity enjoyed by Jordanian parliamentarians has been called out after a video of an MP and his brothers slapping a waiter went viral
A Jordanian MP has courted controversy after being caught along with his brothers on CCTV assaulting an Egyptian waiter days ago.
MP Ziad al-Shawakbah and his two brothers assaulted waiter Khalid Othman in the Jordanian port city of Aqaba, allegedly after one of their food orders was late.
"The meals were delivered a bit late, so the Egyptian worker asked another colleague to serve the meals, fearing that they might be angry at him because of the delay," an eyewitness told the Jordan Times.
The footage of the attack quickly captured the attention not only of online users, but the Egyptian and Jordanian governments.
All three brothers were arrested following calls from both countries to hold them accountable for the attack.
"I think Jordanians were quick to react online that they don't like the idea of bullying from someone who is stronger against a weaker person, especially in this case where the waiter is an Egyptian worker with no family or relatives to rely on in Jordan," Mohammed Husseiny, a political analyst and director of the Identity Centre JO, told Al Arabiya News.
"Secondly and more importantly, Jordanians felt that what Shawakbah did harmed their country's reputation, not only in front of Egypt but more so the world."
Nearly 60 Egyptians protested in front of their embassy in Amman following the attack, reported Egyptian daily Al-Masry al-Youm. At least 450,000 Egyptians live and work in Jordan.
Diplomatic rift?
There were fears that longstanding diplomatic relations between Jordan and Egypt would be affected by the attack.
Egypt's Foreign Ministry stated: "Egypt's ambassador to Jordan Khaled Tharwat has been in touch with the relevant authorities in Jordan to ask the necessary procedures be taken with Jordan's public prosecution."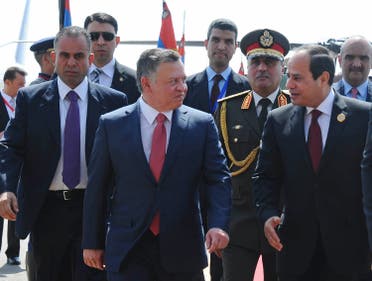 Jordan Media Affairs Minister Mohammad al-Moumni said his country "values their foreign workers," and relations with Egypt "are remarkable on every level."
Moumni added that Jordanian King Abdullah was in constant contact with Egyptian President Abdel-Fattah al-Sisi regarding the incident.
However, Kamal Naser, a Jordanian journalist and editor at Al-Bawaba, told Al Arabiya News that bilateral relations would not be affected "given how both the Jordanian people and their government reacted toward the story. All Jordanians condemned the reactions on social media."
Immunity
While Jordanians have widely condemned the attack, some say this is not an isolated incident, partly because Jordan's MPs enjoy parliamentary immunity.
"This has happened several times now where Jordanian MPs have acted above the law," Jordanian political analyst Zain al-Khasawneh told Al Arabiya News.
"The most recent one that is still fresh in Jordanian's minds is when one MP fired live ammunition at his colleague."
That incident took place in 2013, when MP Talal al-Sharif opened fire on a colleague in a corridor of parliament.
The Jordanian constitution grants MPs judicial immunity "to enable them to perform their work without restrictions which might limit their freedom."
Such privileges can only be considered an exception should he or she be "caught red-handed in a crime."
Because of this, many Jordanians online have asked for constitutional reviews of parliamentary immunity, which they feel allows MPs to act above the law.
"Most Jordanian felt that being a brother of an MP or an MP himself with immunity doesn't allow one to become above the law, so the recent arrest of [Shawakbah] and his brothers has been welcomed as a message that Jordan takes such matters seriously," said Husseiny.