Al-Azhar's outdoor Ramadan adverts draw fiery reactions in Cairo
A number of ads featuring al-Azhar began appearing in different parts of the city
The advent of Ramadan in Cairo is usually marked by what seems like an overnight invasion of enormous billboards advertising TV dramas, foodstuffs, and special offers of all kinds related to the holy month.

While this has long been a regular spectacle, a new addition this year was not. A number of ads featuring al-Azhar, the world's leading institution on Sunni Islam, began appearing in different parts of the city under the slogan "al-Azhar, the beacon of the Muslim world," promoting al-Azhar's website and contact information.

Other slogans included: "Al-Azhar consolidates citizenship principles," "al-Azhar, the major Islamic reference," "al-Azhar, the mouthpiece of the Muslim world," "al-Azhar fights extremism in all languages," and "2016, the year for developing al-Azhar's curricula."

The unprecedented nature of this eye-catching initiative raised questions about the message the institution is trying to deliver, its timing, and potential impact.
New strategy?
The billboards appeared a few days after an international conference organized by al-Azhar was held in Cairo to announce its new development strategy.

In the event's opening speech on June 4, Grand Imam Ahmed al-Tayeb stressed that the only way to eliminate religious fanaticism is by going back to the moderate discourse that al-Azhar promotes.

"This will only be done through correcting misconceptions about Islam, which drive youths to extremism and violence," he said.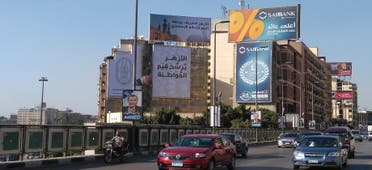 The Imam gave a brief account of the number of initiatives launched by al-Azhar, including the establishment of an online publication "The Observer" in several foreign languages a year ago, in a bid to raise awareness among Muslim youths across the world and to help members of Muslim communities abroad integrate into their respective societies.

"The Observer has so far been a great success and several international organizations are supporting it," explained Tayeb. "The new development strategy constitutes an extension of this initiative." According to the grand imam, the new strategy, scheduled to coincide with the beginning of the holy month, encompasses a number of initiatives that mainly aim at reaching out to as many Muslims as possible.

The authority aims to achieve this in various ways, including boosting its social media presence, launching TV programs featuring al-Azhar's young preachers, launching its own TV channel in Arabic, English and French, establishing a fatwa [religious edict] website in several languages, publishing books that promote the true principles of Islam, and developing al-Azhar's curricula in a bid to address contemporary issues.
This is in addition to paying special attention to international students, who will play an important role in promoting al-Azhar's discourse upon returning to their countries.

"This strategy comes as part of al-Azhar's duty as the world's leading reference on Islam, and as a continuation of its historic role in fighting crises that threaten the Muslim world," he concluded.

The link between the conference and the billboards was hard to miss.

Journalist Mohamed Hisham Abeya said the billboards gave off the impression that al-Azhar is competing against Ramadan TV advertising space.

"Al-Azhar's billboards are placed amid the bright colors and flashy lights of the ones advertising Ramadan TV dramas," he wrote in the Egyptian news website el-Yom el-Jadid.

"So, is competing with television shows really the first step towards implementing the development strategy?"
Modernity
The organizers of this campaign may have wanted to demonstrate al-Azhar's modernity and refute allegations about its inability to adapt to contemporary life, says Abeya, but he believes this is a flawed approach, as a message can only be delivered through actions on the ground on the part of al-Azhar's officials and preachers.

"It also seems quite strange that al-Azhar is advertising itself in its own hometown, Cairo," he added, implying the initiative would have been more effective "had it been launched in London or New York."

Journalist Hassan el-Menyawi said the billboards cannot be viewed in isolation, but rather as part of a wider development strategy.

"Al-Azhar has taken a number of other steps to implement this strategy from the start of Ramadan," he wrote in the Egyptian newspaper al-Wafd.

One example of this, Menyawi said, was a TV show hosted by Tayeb this month, in which he tackles terrorism and other contemporary topics.

The billboards, he added, aim to address a larger segment of the population: "They will attract youths to the fact that they should obtain information about Islam from al-Azhar, in order not to fall prey to other extremist entities."

Menyawi likened the outdoor campaign to TV adverts that started in Ramadan about charity and interfaith dialogue. "Al-Azhar also launched those," he added.

But al-Azhar professors hold different views about the billboards.

Professor of Theology at the institution, Amna Nosseir, believes the ads do not positively promote al-Azhar, warning that they may actually result in the opposite.

"Al-Azhar is compromising its dignified position by resorting to billboards," she told Al-Tahrir newspaper.

"The whole world knows that al-Azhar is a symbol of moderation, but the way it has now chosen to portray this is quite inappropriate."

Al-Azhar's professor of Islamic Law Ahmed Kerima argued that the institution appears as though it is on the defensive.

"Al-Azhar has not been accused of anything in order to defend itself," he told al-Tahrir news site.

"People do not need superficial propaganda, but rather real action."

Professor of Islamic Jurisprudence Souad Saleh disagrees: "I don't see why not," she told al-Tahrir. "If TV dramas are advertised through billboards, then there is nothing wrong with al-Azhar utilizing the same tools to face accusations of its inability to be part of the Egyptian street."