Dubai hums to a different tune with home-grown talent
Local institution The Music Room is a world away from expensive pyrotechnics and lightshows
It's a Saturday night and Federica Gelsi is doing something that is almost unheard of in Dubai – watching an evening of local bands.
The city that glitters is regularly home to some of the biggest musicians on the planet. One Direction, Ed Sheeran, Kylie Minogue, Justin Bieber – just a smattering of the inexhaustible list of stars who have recently sauntered though Dubai's revolving celebrity doors and performed at its world class venues.
But down in deepest, darkest Bur Dubai, one of the oldest parts of the city, local institution The Music Room is a world away from expensive pyrotechnics and lightshows. Famed for serving up homegrown musicians alongside its burgers, it's a scene that doesn't often feature elsewhere in the bustling city.
"I don't actually come for the music," Gelsi, sat with two friends, declares. "It's a super nice atmosphere."
It's an interesting point. Looking around the 250-strong crowd who have turned up to celebrate the one-year anniversary of local musician collective Musicians United, there's no hint of the typical five-star Dubai finesse that can feel sterile after one dozen too many carbon copies. It's dark, cosy, and full of colorful characters who primarily differentiate themselves through their hairstyles: mustaches, man-buns, afros, hipster beards, mohawks.
Oh, and it's loud; the bill features eight bands, mostly rock variants.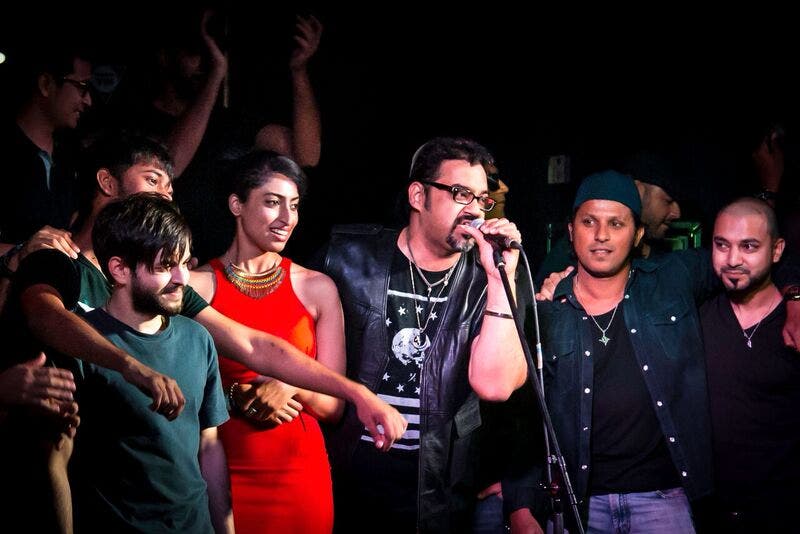 Gelsi, a 29-year-old architect and music fan, says low-key live music can be hard to come by; discounting the pricey offerings from restaurants and bars from Dubai's upmarket financial center.
"I love a normal bar where they play just music. [The financial center venues] are super fancy places, you cannot go there every week."
That's where venues like The Music Room and Pizza Express in JLT, famed for its jazz nights, come into their own.
Gelsi says a vibrant local music scene is one thing she misses about her home country, Italy. How do Dubai's local bands stack up?
"It all depends where you come from," she says, slowly.
"The level of every cultural activity is kind of low in Dubai [compared with Europe], not only music – art, design, painting."
It seems to be improving, but for Gelsi the gigs are more about the ambience.
But Musicians United are on a mission to prove that local musicians have the talent. The collective was set up in May 2014 by local musician Vin Nair – lead singer of the region's first band signed to a major record label, Vin Sinners – and manager Yamini Menon.
"I've had disagreements with some people who say there's no talent here. There is a lot of talent in this country, a tremendous amount," Nair says. "I don't think here's any dearth of talent, it's more about opportunity and finding time."
Dubai's local music scene, he explains, faces unique challenges.
"If you look at how it works in the West it's all organically built, bands come together from the garage. Here, unfortunately, you don't have that opportunity for the simple reason you have to have a day job to survive in this country. Those in college are not allowed because its 21 plus only to perform."
Even Nair still works fulltime as the director for sales and marketing at a regional logistics company.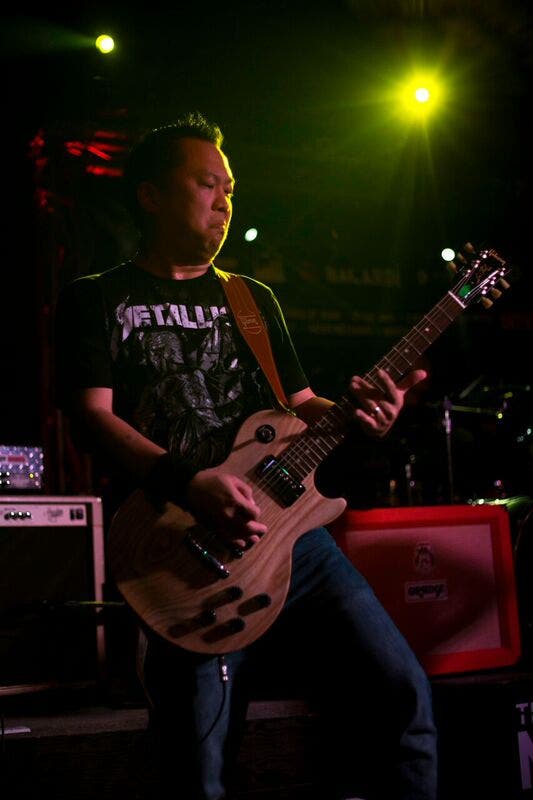 Coupled with those factors is Dubai's notoriously transient population, which can impede continuity – people come for jobs or education and may be gone in several years' time. Many people work long hours - some six days a week - and free time is scarce.
"There's a lot of constraints and that's exactly why when people come out and do this there's a lot of effort that goes in, they're doing it over and above their regular job and they're doing it over and above their family time and making a lot of sacrifices and it's only fair they get that platform."
Musicians United is an interesting idea, a sort of musical cooperative intended to help connect bands with one another and with fans. It is also built on some principles of fairness, giving stage time to budding original musicians – uncommon in Dubai where covers bands predominate – and distributing all gate revenues evenly amongst the artists. So far they have worked with 17 bands.
Menon says bands can earn around $800 each per gig – not enough to fund a new career path, but a small reward and incentive.
"We do recognize the effort that goes in on a daily basis. We said 'Why not if this could pay them a little bit, probably for two practice sessions', and these guys are earning a respectable amount of money each gig," she says.
Carl and the Reda Mafia is one success story. After just seven months together, the band is already signed to Abu Dhabi-based record label White Cube, has been approached by major international labels and has played at major festivals like the Jazz Festival.
Band founder and lead singer Carl Frenais gave up on a music career in his home town of Kerala in India, and moved to Dubai to do the sensible thing and find a tax-free job.
His genre of music was not popular in India ("it's all about rock and Bollywood") and Frenais says he never expected to find the success he has with his new soul-funk band.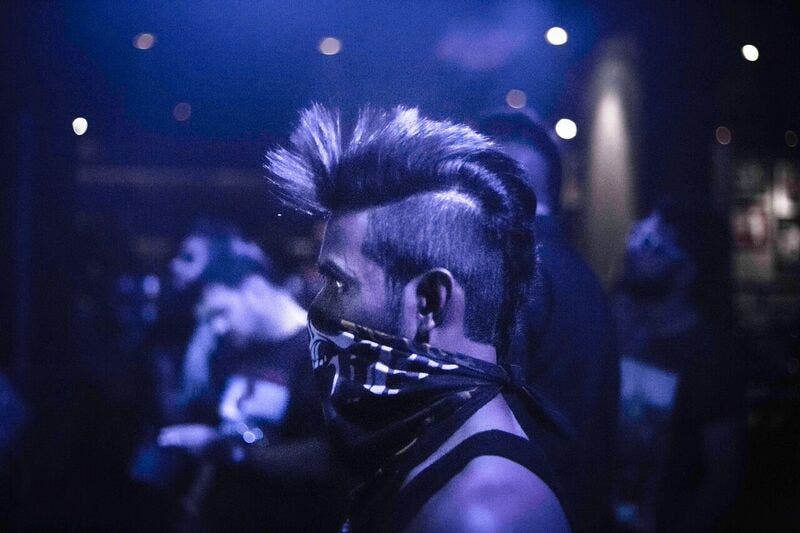 "It's been the best reception we ever dreamt of. We started off in October, about a week after it was the UAE Battle of the Bands…60 bands took part in it [and] we went there and we won it."
Musicians United was instrumental in providing a channel to audiences, Frenais says.
"There were not a lot of platforms we could play…most bands here play covers. I was like 'There's no way we'll play covers, we have to do originals and that's about it'. Musicians United was one of those platforms who helped us do that."
It's not an easy schedule. The 24-year-old works as a security project manager during the day and then from 6pm til 11pm practices with his band, spending many weekends recording a new album in Abu Dhabi.
But he is hopeful that won't always be the case for his multinational four-piece band, whose members come from India, Egypt, Nigeria and Greece.
"The music scene is taking off in Dubai, absolutely. In the last year the labels are finally opening up to local artists being signed on them. Before Universal or Sony – who are the only two labels in the Middle East who can put you on iTunes – were concentrating only on Arab artists, but now they realize there's so much talent in this place."