Relatives erupt with grief after Malaysia says plane crashed
At a Beijing hotel where many of the relatives are staying, family members erupted in shouts and tears after they heard the news
Relatives of Chinese passengers aboard a missing Malaysia Airlines flight screamed, cried and collapsed on the ground on Monday after the Malaysian prime minister announced the jet ended its journey in the remote Southern Indian Ocean.

At the Beijing hotel where many of the relatives are staying, family members erupted in shouts and tears after they heard the news, wailing and in some cases dropping to the floor.
Infographic: Flight MH370 'crashed' into the Indian Ocean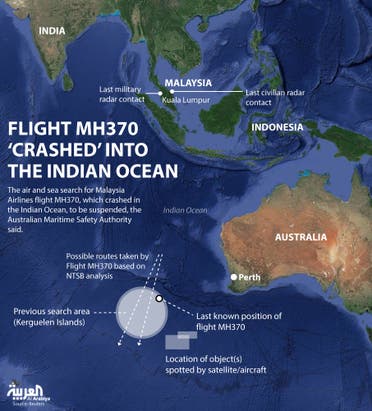 One woman screamed out: "It's not possible, it's not possible!" before collapsing.

At least four people were stretchered out, having apparently been overcome with emotion. Others lashed out at reporters.

"Something is being withheld, something is being withheld!" shouted another man.

Others struggled to accept what they had been told.

"I want to tell the journalists...the information they just sent...is not true!" said one lady.

Flight MH370 vanished from civilian radar screens less than an hour after take-off from Kuala Lumpur for Beijing with 239 people - more than half Chinese nationals - on board on March 8.

No confirmed sighting of the plane has been made since, but much debris has been found in waters off Australia which might be part of the missing plane.

Malaysian Prime Minister Najib Razak said fresh analysis of satellite information from British company Inmarsat had shown that the last position of the aircraft was in the Indian Ocean west of Perth, Australia.

Several Chinese media outlets reported on their official Weibo microblogs that family members received a text message saying that "we have to assume beyond reasonable doubt" that none of those onboard survived.

China has repeatedly pressed the airline and the Malaysian government to give more information to family members and ensure they are being properly looked after.

Some relatives had threatened hunger strikes and protests in front of the Malaysian embassy to express their anger.

The official newspaper of China's ruling Communist Party, the People's Daily, wrote on its microblog that many questions remained to be answered, including why the plane ended up in the Indian Ocean and what exactly the new satellite evidence was.

"Search and rescue efforts cannot stop, and the truth must not be absent!" it wrote.