"The military took away my father along with all other men from our village. They set fire to the house with my mother inside. She was burned to death," says Mohammad Jakaria, 13, who fled to Bangladesh with his neighbours. His sister still remains at large.

This is just one of thousands of similar experiences that Myanmar's ethnic Rohingya population have endured over the last month.
More than a thousand Rohingya have been killed in Rakhine state and close to 500,000 Rohingya have fled to Bangladesh in the latest military campaign against the Muslim minority group - a campaign involving, rape, pillage, burning villages and shooting men, women and children as they try to flee.
History of discrimination and racism
Such military campaigns against the Rohingya are not new. The initial push of the military's ethnic cleansing campaign came in 1978 under Operation Naga Min, or Operation King Dragon to identify and expel "illegal immigrants".
Similar campaigns continued over the years till date - a campaign so violent that the UN has described it as a "textbook example of ethnic cleansing" and has opened an investigation.
Although factors contributing to the emergence and continuation of such violence against an ethnic minority group are numerous, racism is the key determinant behind the violence, says Michael Jerryson, associate professor of religious studies at Youngstown State University.

"There are different Muslim ethnicities in Myanmar," says Jerryson. However, "the only Muslim ethnicity rejected under the 1982 Citizenship Law - and thereby no longer viewed as having citizenship claims - were the Rohingya".

The 1982 citizenship law, passed by Myanmar's military government, is central to the persecution of the Rohingya, which effectively denies Burmese citizenship to Rohingya on discriminatory ethnic grounds. To obtain the most basic level (naturalized citizenship), there must be proof that the person's family lived in Myanmar prior to 1948, as well as fluency in one of the national languages, but many Rohingya lack such paperwork.

According to the 2014 census data, Muslims exist in other regions of Myanmar including Kayin (4.6 per cent), Thanintharyi (5.1 per cent), Mon (5.8 per cent) and Yangon (4.7 per cent). Although Muslims living outside of Rakhine state may have improved citizenship rights compared to the Rohingya, all Muslims are targeted across the country according to the UK-based Burma Human Rights Network.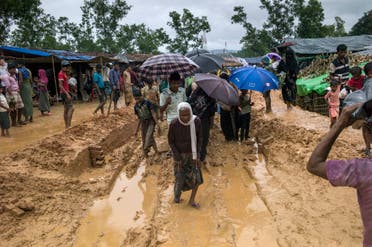 In such a societal set-up, the ethnic Burmese groups enjoy certain privileges compared to those labeled as non-Burmese. In his paper entitled,""The Wages of Burman-ness" Ethnicity and Burman Privilege in Contemporary Myanmar", Matthew J. Walton, senior research fellow at Oxford University, argues how the military's historical role in combating non-Burmese ethnic insurgencies led to an institutionalization of differential treatment for Burmese vs. non-Burmese populations.

Jerryson agrees. "In Myanmar, the ethnic Burmans have had privileges political, economically, and socially for decades. They are positioned as superior to those that are on the opposite extreme, the Rohingya...Racism thus works well to describe the ways in which those in power in Myanmar, the Buddhist Burmans, have treated and view their 'untouchables,' the ones who they refuse to acknowledge by name: the Rohingya,"
Such discrimination manifests itself in several ways. The Rohingya are referred to as "Kalar," a racial slur reserved for Bengalis and face discrimination at schools and at hospitals, and there's been a campaign by Buddhists to boycott them. Rakhine State, where the majority of Rohingya reside, is Myanmar's least developed state, with a poverty rate of 78 per cent, compared to the 37.5 per cent national average, according to the World Bank.
The Rohingya birth rate is controlled by marriage restrictions and a two-child policy in the northern towns of Maungdaw and Buthidaung that often leads women to take desperate measures and self-abort by inserting a stick into the uterus to terminate pregnancies. Several leaked documents also reveal how the isolation and subsequent genocide of the Rohingya has been orchestrated and facilitated by the state over the last several years.

Ye Htut, the former Myanmar Minister of Information and now a visiting fellow at the ISEAS YusofIshak Institute, disagrees with charges of racism and blames Muslim terrorists for the ongoing violence. "There is no systemic racist view on Rohingya/Bengalis, but ethnic Rakhine are concerned about rapid growth of the Muslim population in Rakhine state and their demand for ethnic race standard," he says.

To meet this "ethnic race standard," a group would have to prove their ancestors had settled in Myanmar prior to the British invasion of 1824. In his view, the Rohingya could qualify for citizenship which would allow them to take part in the civic affairs of the state, but they do not qualify as a recognized ethnic race. To be recognized as a citizen, however, a Rohingya would have to agree to use the term "Bengali" in official government documentation - a term the military uses to deny Rohingya their identity.

Htut goes on to say that ARSA (ArakanRohingya Salvation Army), a Rohingya insurgency group that attacked Border Guard Police bases, is the reason for the military campaign. From his standpoint, the Rohingya fully reject ARSA and live peacefully with their Buddhist counterparts while both groups are protected by the military.
The military and hard-right alliance
Jamila Hanan, a UK-based human rights activist believes Htut is deflecting from the main issue and says discrimination against the Rohingya is common practice.
"The hostility towards the Rohingya is nothing new," she says. "Since they are of a darker colour, follow a different religion, and speak a different language to the rest of the population in Myanmar, it is no surprise that they fall victim to prejudice and hatred. But the military in Myanmar have used and encouraged these hostilities for their own power grabbing agendas."

The military in Myanmar remains influential even after the landslide election win of de-facto leader Aung San Su Kyi in 2016 and is largely seen as the power behind the scenes.
The military became a potent force in Myanmar politics after General Ne Win toppled the civilian-led Anti-Fascist People's Freedom League in 1962. With its rise to power, a policy of "Myanmarisation" was implemented as an ultra-nationalist ideology based on the racial purity of the Myanmar ethnicity and its Buddhist faith.

This purist Buddhist vision is directly in line with ideologies of Myanmar's powerful hard-line groups including one known simply as the Ma Ba Tha. Its spiritual leader and founder, the stout, crimson-robed, AshwinWirathu looks like a man of peace and tolerance. Yet the charismatic 49-year-old is quick to quash such perceptions with his sharp-tongued sermons demonizing Muslims.

"Muslims are like the African carp," Wirathu is known for saying. "They breed quickly and they are very violent and they eat their own kind. Even though they are minorities here, we are suffering under the burden they bring us."

The anti-Muslim policies put in place by the military over the years is exploited by monks like Wirathu who use the language of crisis to play on fears and instigate violence, says Jerryson.

"What the Buddhist monks in Burma have done, especially those of the 969 movement (precursor to the Ma Ba Tha), is they have distributed flyers and pamphlets and tapes talking about a crisis in Burma. If you're able to pull people to think of there being a crisis... for their society and usher in with sacred relevance, which is what the monks have been doing with Buddhism, people are more willing to take drastic measures and be supportive of drastic measures," Jerryson says.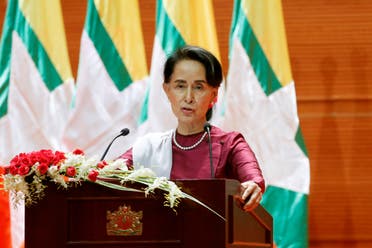 Existential crisis
Citing an existential crisis has worked for the monks. Su Kyi refused to allow Muslim candidates to run for her party before the election and kept in place the discriminatory Race and Religion Protection Laws passed by the previous military government that aim to constrain religious conversion, regulate child birth and restrict Buddhist women from marrying non-Buddhist men.

Challenging such laws or speaking out against atrocities committed against a minority group is akin to confronting Myanmar's powerful right-wing and provoking a Buddhist Burmese population that sees such efforts as preservation and protection of its people and identity.
In 2015, U Htin Lin Oo, an official in Aung San Suu Kyi's National League for Democracy (NLD) was sentenced to two-and-a-half years in jail with hard labor for "insulting religion", after making a speech condemning the misuse of Buddhism by hardliners. He was promptly dismissed by the party. More recently, the state-backed Buddhist Sangha Council tried to ban the Ma Ba Tha as an illegal organization and ordered it to take down its signs. Not to be outdone, the Ma Ba Tha chapters either ignored the order or rebranded completely.
But Francis Wade, journalist and author of Myanmar's Enemy Within: Buddhist Violence And The Making Of A Muslim Other, warns that we must be careful not to cast all Burmese with the same brush.

"There has certainly been racially-charged and dehumanizing language among all the invective directed at the Rohingya. But expressions of resentment vary hugely, some speak of more material concerns - loss of land, resources and so on. Others are more ideological, and identity-based," he says.

For example, according to a report by the International Crisis Group entitled "Buddhism and State Power in Myanmar," the Ma Ba Tha derives much of its support for its work in the areas of education, disaster relief, providing food and health care services and mediating disputes.
Although one might not share the Ma Ba Tha's anti-Rohingya or anti-Muslim views, the organization's multi-dimensional nature allows it to gain a following from a vast sub-section of the population". So is Myanmar essentially a theocracy under the guise of democracy?

"Not quite," says Wade. "It's a military state under the guise of a civilian government. The monks are highly influential and some may want a stronger role in government, but we're not quite there yet."
_________________________
Aurangzeb Qureshi has written for numerous publications including Al-Arabiya English, Huffington Post Canada, Business Insider, CBC and Pakistan Daily Times among others. His writing focuses primarily on civil rights, minority rights and the impact of energy on foreign affairs. www.aurangzebqureshi.com.