GCC salary guide 2023: Salary, recruitment and bonus trends across the UAE, Saudi
Four in five employees are expecting a bonus from their companies in Saudi Arabia in 2023 while nine in ten businesses in the Kingdom are expecting to recruit new staff this year, according to a new report.
Recruitment specialists Hays Middle East has released its GCC Salary Guide 2023, which reveals insights into recruiting trends and salary data for over 400 roles across 13 industries in the Gulf.
For all the latest headlines follow our Google News channel online or via the app.
The guide is based on expert insights and the analysis of a survey of over 2,000 employers and professionals.
The guide reveals that despite global disruptions, the GCC remains stable with continuous investment and diversification leading to a buoyant labor market in 2023, creating new jobs across multiple sectors and geographies in the region.
The report found that countries in the GCC were largely successful in mitigating the economic impact of the COVID-19 pandemic.
In 2021, Hays reported a stabilized pandemic situation and a return in business confidence.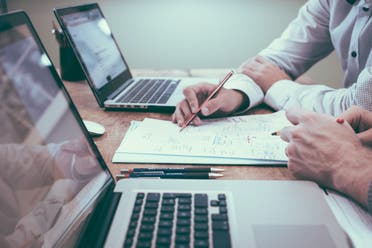 This led to a boom in recruitment in 2022, with levels growing to the highest they have been for nearly three years - 67 percent of employers who took part in the survey say their headcount increased in 2022, compared to 40 percent in 2021, and just 19 percent in 2020.
Recruitment in 2023
Across the GCC, 85 percent of employers are planning to recruit new permanent employees in 2023.
However, with 45 percent of professionals looking to change organizations, greater competition for the best talent is to be expected.
Hays said employers can leverage flexible working options to counter competition, with the guide showing that only 49 percent of organizations in the GCC currently offer remote or hybrid working options.
Meanwhile, professionals place work-life balance and flexible working as a top priority when looking for a new job.
Trends in Saudi Arabia
In Saudi Arabia specifically, the report found 79 percent of employees expect a pay rise in 2023, and 70 percent felt optimistic about the economic outlook this year.
More than half (54 percent) of employers offer no flexible, remote or hybrid working to their staff.
Meanwhile the report showed business is booming in the Kingdom, with 89 percent of businesses planning to recruit in 2013.
The forecast for the UAE
Meanwhile, the picture looks equally as rosy for the UAE, where 74 percent of employees expect a pay hike and 65 percent felt optimistic about the economic outlook.
Half of those questioned said their employers offer flexible working, while the majority of firms (85 percent) also said they were looking to boost their staff quota in 2023.
Jobs for UAE and Saudi nationals
While the call for expat labor is growing, the ongoing updates in legislation for nationalization in the UAE and Saudi Arabia will also increase competition for local professionals.
Currently, 43 percent of organizations in the UAE employ Emiratis.
With the new Emiratization decree having come into effect in January 2023, 49 percent of UAE-based organizations plan to increase headcount of Emiratis in the next 12 months.
In Saudi Arabia, 91 percent currently employ Saudi national citizens and 87 percent plan on increasing their headcount this year.
Addressing the skills dissonance is vital for future success, said Hays, as employers and employees in the GCC have different perceptions of talent availability within their organizations.
While 82 percent of employees believe they have the necessary skills to fulfill their role in 2023, only 35 percent of employers strongly agree they have the talent needed for the coming year.
The guide highlights that technology remains the most active industry sector for hiring, with 77 percent of organizations increasing their headcount last year, thanks to consistent local and foreign direct investment in focus areas such as data, cybersecurity, and cloud solutions.
The top three most valued benefits include flexible working, child education allowance, and air ticket allowance, aside from salary.
Saving for the future
A separate survey released this week, conducted by YouGov, commissioned by Zurich International Life, has revealed that a majority of UAE residents are planning to invest their annual bonuses into their future.
The survey, which covered 1,200 residents across various income groups, nationalities, occupations, age groups, and gender, found that 82 percent of respondents plan to utilize their bonuses for investments such as property, children's education, retirement savings, and life insurance.
The survey also found that 31 percent of respondents received a bonus of up to $5,450 while 12% received up to $13,600. Investing in property was the top priority for most respondents, with 24 percent of respondents indicating that it was their preferred investment choice.
Retirement savings and paying off debts were also high on the priority list, with 17.6 percent and 15 percent of respondents indicating that they planned to utilize their bonuses for these purposes, respectively. Saving for children's education and life insurance were also popular choices, with 14 percent and 11 percent of respondents indicating that they planned to invest in these areas, respectively.
Read more:
UAE, Saudi employees can expect pay rises, bonuses in 2023: Experts
Remote, flexible work to boost travel spending by UAE, Saudi travelers in 2023
UAE firms prove COVID-19 resilience with 4 percent pay hike in 2022