In Dubai, artisans pass Emirati crafts onto generations to keep heritage alive
Inside a traditionally built home, a group of women and craftswomen sit together in a circle as they weave colored palm fronds, an ancestral Emirati heritage craft called Al Khous.

Shamma Al Saadi, learned weaving from her grandmother and joined the centre to teach others everything she knows.

For the latest headlines, follow our Google News channel online or via the app.

"I know how to work with Safafa (Al Khous), Al Talli, and Al Burqa. Since I like these crafts, I have to teach the future generation, to pass on our heritage across generations," said the 37-year-old Omani artisan.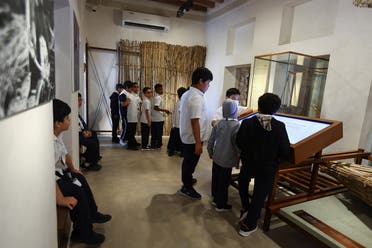 Curious to discover what's behind the modernized front of Dubai, Veronica Smudlers came to learn how to make Al Khous products.

"I came to learn the art of Khous and get to know a little bit more about the Emirati heritage and I am a content creator so I would love for more people to see what's behind the surface of Dubai and learn the rich culture and heritage of Emiratis," said the Spanish national.

Across the hall, a traditional embroidery called Talli is also being taught to young students from Umm Suqueim school, who were closely watching craftswomen weaving threads to create patterns.

Using a small stand called Kajooja and a bolster-shaped cushion, the threaded patterns are used to make accessories or decorate garments.

"I really liked it, as I learnt many new things and the cultures of our ancestors. I thank everyone who taught me and I hope I will teach it to my children and grandchildren," said young student, Alia Mourtada.

Fearing that these traditional crafts would one day disappear, the manager of the Turath Centre for Traditional Handicrafts, the educational arm of Al Shindagha Museum, Um Obeid, said that their goal is to popularize these skills in the modern world.

Al Shindagha Museum, is Dubai's largest heritage museum, in the heart of Al Shindagha Historical Neighborhood that reflects Dubai's past and presents a glimpse into its future.
Read more: Sharjah Museums Authority organizes exhibition on Emirati dagger craftsmanship