The second edition of the Global AI Summit kicked off Tuesday morning in the Saudi capital Riyadh, bringing together various stakeholders and academics to discuss the future of artificial intelligence and the Kingdom's contribution to this field.
Over 200 speakers representing 90 countries have come together for the global summit that will run until September 15 at the King Abdul Aziz International Conference Center and under the patronage of Saudi Crown Prince Mohammed bin Salman.
The Global AI Summit, organized by Saudi Data & AI Authority (SDAIA), will touch on topics such as the impact of AI on the public and private sectors, healthcare, environment, transportation, smart cities and culture among other matters.

For all the latest headlines follow our Google News channel online or via the app.

SDAIA said on its website that "tech companies, startups, investors, and entrepreneurs [will] meet at the Global AI Summit to shape the future of AI."
Speaking at the opening ceremony of the summit, Saudi Minister of Communications & Information Technology Abdullah Alswaha said that Saudi Arabia "has become the largest tech force of coders and data scientists," adding that there are currently more than 70,000 trainees in this field.

He added that women's participation in the field of technology has exceeded 30 percent.

Alswaha also said that Saudi Arabia has presented one of the best examples of AI implementation in THE LINE city in NEOM, under the guidance of the Crown Prince.

"We've worked with global innovators and thinkers leveraging data and AI to deliver the first cognitive city THE LINE, and [explore] how we can deliver the five-minutes liveability and walkability where you can work, live, play and learn with zero-emissions," he said.

The futuristic city of THE LINE aims to make everything accessible within a five-minute walk while providing access to public transport that can offer end-to-end journey within 20 minutes. The automated services will be powered by artificial intelligence, according to NEOM's website.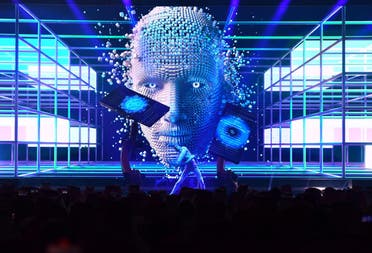 Saudi Aramco CEO Amin Nasser highlighted the significance of staying up to date with the latest developments in the field of digital transformation, noting that "any huge and large investment in artificial intelligence and information technology should make companies more profitable and more successful."

"It is necessary to realize that the role and purpose of artificial intelligence is that it complements human [capital], and [does] not replace it. In my opinion, the primary priority for companies today is to determine the best and the optimal mix of human and machinery capabilities."

Touching on cyberattacks, Nasser said that they "are one of the biggest threats that we face at Aramco with natural disasters or physical attacks" comprising the same level of threats.

"While these attacks are growing… AI helps thwarting some of these threats," he added.

During the Global AI Summit, participants will also focus on "exchanging expertise with local and international experts and exploring investment opportunities related to AI technologies," according to the official Saudi Press Agency (SPA).

More than 40 agreements and Memorandums of Understanding will be signed during the summit between public and private sectors from Saudi Arabia and abroad, SPA added.

"This is in addition to announcing eight local and international initiatives among global companies and institutions in a bid to enhance international cooperation on AI and its uses."
During his speech, Aramco's CEO announced a new strategic project called "Aramco Global AI corridor" that is "designed to develop and commercialize complex AI solution to train Saudi talent, support Saudi startups and together with global partners build a local AI ecosystem." He added that the project is in collaboration with California Institute of Technology (Caltech) and Beyond Limits.

On the sidelines of the event as well, the Saudi Company for Artificial Intelligence (SCAI), which is owned by the Public Investment Fund, announced its plan to invest in a new project in partnership with Chinese artificial company SenseTime to establish a developed intelligence lab and create local job opportunities, according to Al Arabiya.

The investment, which is worth 776 million SAR ($207 million), aims to develop the AI field in the Kingdom and enhance its position as a center for emerging technologies.

Read more:
Saudi prosecution confiscates over $1 bln from gang accused of money laundering: TV
Saudi Arabia's King, Crown Prince congratulate British King Charles on accession