Turkey's lopsided presidential election campaign
Prime Minister Recep Tayyip Erdogan enjoys far more popularity than his rivals in Turkey's first direct presidential election
Prime Minister Recep Tayyip Erdogan is the unquestionable front-runner in Turkey's first direct presidential election on Sunday. And critics accuse him of using his position as premier to make the contest even more lopsided.

Erdogan, a skilled public orator who has dominated Turkish politics for a decade, enjoys far more popularity than his rivals: a newcomer on the political scene supported by several opposition parties and an ambitious young Kurdish politician. Most predict an Erdogan victory; the key question is whether he would win an outright majority on Aug. 10 or have to go to a runoff on Aug. 24.
Infographic: Turkish presidential elections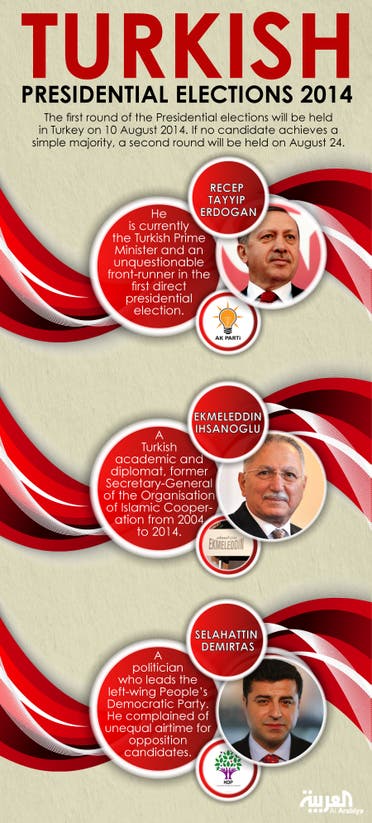 Critics say his position as prime minister has helped him dominate the airwaves during the campaign, banishing his opponents further to the shadows.

Official inaugurations of public works such as rail links and airports morphed into Erdogan campaign speeches even before the July 11 start of the official campaigning period. His appearances - elaborate affairs that attract hundreds of thousands of flag-waving supporters - are televised live in their entirety and his face adorns posters across the country.

Rivals Ekmeleddin Ihsanoglu, a mild-mannered 70-year-old academic supported by several opposition parties, and Selahattin Demirtas, a 41-year-old Kurd who leads the left-wing People's Democratic Party, have been far less visible - and media watchdogs have stepped in.

Last month, Turkey's Press Council called for the resignation of the head of state-owned broadcaster TRT, Ibrahim Sahin, after Demirtas complained of unequal airtime for opposition candidates - and Sahin allegedly threatened to take the candidate off air if he criticized the channel again.

"TRT, which continues to exist through taxes paid by the people, has no right to make such statements," the Council said.

Last Sunday, the channel also cut the live broadcast of a speech by Devlet Bahceli, head of the Nationalist Movement Party that backs Ihsanoglu, after he criticized TRT's election coverage.

"TRT has been conducting a propaganda campaign for Recep Tayyip Erdogan from morning to night every day," Bahceli told his supporters. Seconds later, he was knocked off air.

"It's a very lopsided campaign process," said Ersin Kalaycioglu, professor of political science at Istanbul's Sabanci University. "The democratic credentials of this election are in grave doubt."

An official from Erdogan's office rejected accusations of unfair campaigning, saying the Turkish leader's campaign adhered to the electoral law. He spoke on condition of anonymity because civil servants are barred from speaking to journalists without authorization.

The official said election laws ensuring equal campaigning and barring the use of state resources kick in 10 days before the elections. Erdogan had not used any state funds since the end of July, he said, and was using privately hired planes and vehicles for his campaign movements.

An interim report issued by the Organization for Security and Cooperation in Europe, which is sending observers for the vote, noted that the country's election board postponed the application of key regulations to ensure equal campaigning opportunities to July 31, though the official campaign period began on July 11.

"Campaign activities of the prime minister are large-scale events, often combined with official government events," said the report, which looked at the period of July 9-28. "While other candidates actively campaign, the public visibility of their campaigns is limited."

It said children's toys and women's scarves were distributed after at least one of Erdogan's July pre-election speeches, and an official from his Justice and Development Party, or AKP, told the OSCE the party was conducting a door-to-door campaign distributing boxes of food and other small items.

"Elections have been turned into an extremely ugly race in which the AKP's candidate is competing unfairly with the backing of all benefits of the state, financial power, media power," Demirtas said during a speech in Istanbul last Sunday - only parts of which were broadcast live on TV; a live Internet feed was available.

About 53 million people are eligible to vote in Turkey. Another 2.8 million are registered abroad, where voting began July 31. Until now, Parliament elected Turkey's president.